Commander Legendsin julkaisu siintää kahden viikon päässä 20.11. Koronatilanteesta johtuen varsinaisia prereleaseja ei pystytä järjestämään, mutta kotiprelluja pääsee silti pelaamaan. Tähän artikkeliin on koostettu kaikki tarvittava tieto Commander Legendsin Play at Home Prereleaseista sekä Participation ja Buy-a-Box Promoista. 
Käy lukemassa myös Löhiksen Poroskooppi-artikkeli Commander Legendsistä
Commander Legends Prerelease at Home & Participation Promo Sengir, the Dark Baron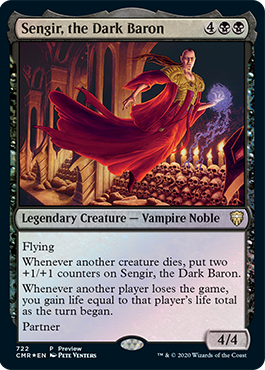 Prerelease / Participation Promo Sengir, the Dark Baroneita on jaossa kaikille Commander Legends Play at Home Prerelease Kitin ostajille. 6 Commander Legendsin boosteria ja Sengirin sisältäviä kittejä aletaan myydä jo tämän viikon perjantaina 13.11. ja postitilaukset laitetaan matkaan jo tostaina 12.11. Täten tulevana viikonloppuna pääsee jo halutessaan pelaamaan Commander Legendsin Sealedia tai Draftia vaikkapa komentajaringin kaveriporukalla. Valitettavasti kaupat eivät pysty järjestämään live prereleaseja vallitsevasta tilanteesta johtuen. 
Ensimmäinen satsi Eurooppaan lähetettyjä Sengireitä puhui espanjaa, mutta jakelijat saavat pian vaihdettua promot englantia puhuviin serkkuihin. Ilmoitamme ehdimmekö saada englanninkieliset promot jo prereleaseviikolle, vai toimitetaanko ne jälkikäteen. Stay tuned. (Kitit maksavat saman verran kuin 6 boosteria ja jokaista kittiä kohden ostaja saa yhden Sengirin. Ostamalla siis useamman kitin saat yhden Sengirin per 6 ostettua boosteria!)
Buy-a-Box Promo Mana Confluence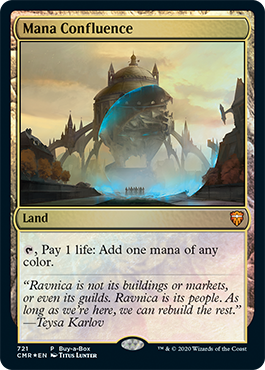 Buy-a-Box promona Commander Legendsissä toimii Mana Confluence. Saamme valitettavasti jaettavaksi ennennäkemättömän pienen määrän promoja ja ne loppuivat käytännössä päivän sisään Commander Legendsin ennakkomyynnin alkamisesta. Kaikille Buy-a-Box promokortin saaville on ilmoitettu sähköpostitse perjantaina 30.10. Voit siis käydä tarkistamassa oman tilanteesi tsekkaamalla löytyykö inboxistasi mailia otsikolla Commander Legends Byt-a-Box Promo Mana Confluence. Pahoittelemme, että läheskään kaikille ennakkotilaajille ei riitä BaB promoa äärettömän suositun Commander Legendsin kohdalla. 
Porot toivottavat kaikille maagista Commander Legendsin odotusta! Commander Legendsin irtokortit ja tuotteet löytyvät ennakkotilattavista täältä.