German Highlander Set Review - Shadows over Innistrad by Janne Öhman
If a card is not mentioned in this article, I don't think it is good enough to see play and I was too lazy to make jokes about it. Or I missed the card, feel free to mock me.
I will gladly read any comments you might have. I really want to ignite discussion with these reviews, so if you feel you want to say something to me or anyone else, leave a comment. I will read those and try to reply, if I feel I have something to add (and probably reply even when I don't).
Since I don't believe you can give any kind of accurate rating for magic cards with numbers or letters, the grading system I use is as follows:
Format Staple - Played in multiple decks and a card you will see over and over again in a HL tournament. Usually you need to convince yourself not to play these cards if you play those colors. Examples: Lightning Bolt, Sensei's Divining Top, Jace, the Mind Sculptor
Archetype Staple - See above but in a smaller scale. Probably only goes in one deck, but does some excellent job there. Examples: Crusade, Flame Javelin
Niche - A card that doesn't have a deck currently, but is playable in a vacuum. Or the deck the card goes into just isn't good enough for a serious tournament play, but the card itself is good in that deck. I usually grade lots of cards with the "niche" rating since there are so much you can do in HL and so many different archetypes feel like they are just a few cards from being a real deck. Examples: Glistener Elf, Invisible Stalker
Unplayable - These range from hilariously horrible cards to almost making the cut. The thing is, there are a lot of cards in the format and it's not that easy to break through a wall of already established cards. If you have a budget deck, there are a whole lot of cards in this category that actually do you some good and are able to win games no other cards in the situation can. Examples: Early access games (please do not buy them)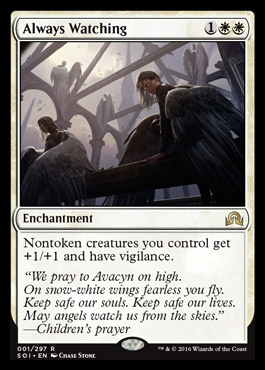 Shame, a real shame. I know this is supposed to mirror Intangible Virtue, but in that process they managed to make useless card. Tokens are the creatures that need the most help anyway, so this is really underwhelming. I don't see much reason to play this. Vigilance isn't too relevant bonus to cut down on good token producers, so the payoff is non-existent.
Verdict: Unplayable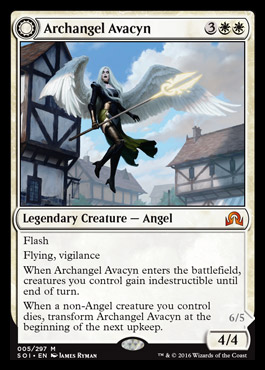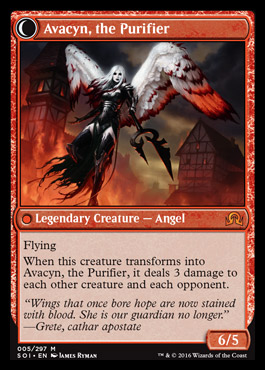 Oh the hype. Probably benchline for five drops in standard, but we are not here to debate that.
Five mana is a lot, having all these great abilities do help to make Avacyn worth it. Flash allows you to ambush big time and making your whole team able to dodge wrath is very cool bonus. Couple that with surprise 4 power and you probably swing for lethal if opponent foolishly thinks they can hide behind Supreme Verdict. Making her transform is not the easiest thing to do, she protects your whole squad on entry and opponent can then adjust if they do not want her to flip. Sometimes they even want to do, though. They can use her to do the dirty deed of wiping the board. Flipped side isn't all that amazing, but that is hardly what matters.
I think she is clearly capable, but people seem to underestimate how ridiculously expensive five mana is in today's economy. Still, power is present and she can blowout combats, removal or even wraths. Probably good enough to be played in multiple archetypes.
Verdict: Format Staple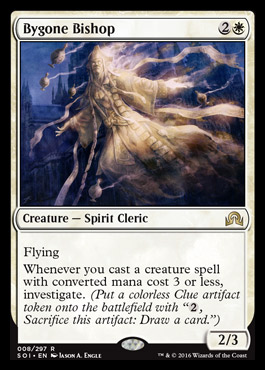 I don't think this is a card, but this is a pretty decent opportunity to talk about investigate as a mechanic. Random artifact that cycles for 2 mana is not powerful, clearly much weaker than straight up cantrip. Although, sometimes random artifacts aren't random. Having synergy from artifacts ups the power of this ability somewhat. All of a sudden your Tolarian Academy can go into overdrive from seemingly innocent clue tokens. Still, not that big of a deal and most likely still weaker than drawing a card.
Taking this into account when grading Bygone Bishop makes it rather weak. Not aggressive enough to pressure well and not even triggering from all creatures cast. Let bygones be bygones.
Verdict: Unplayable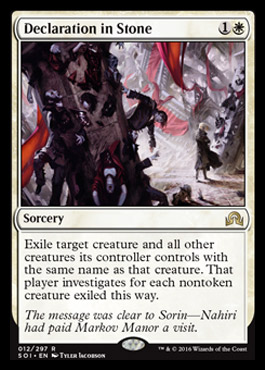 Let's talk about clue tokens some more, shall we? Clue tokens aren't extremely powerful, but in the late game they will give you nice little edge. Declaration in Stone isn't extremely powerful in HL, we have better removal and even something like Journey to Nowhere is most likely just less of a risk. Journey isn't seeing too much play, so this doesn't bode well for Declaration in Stone. Still, if you don't have too much removal, are playing aggro (to mitigate the impact of the clue token), this does exactly what you want, so not unplayable by any stretch.
Verdict: Niche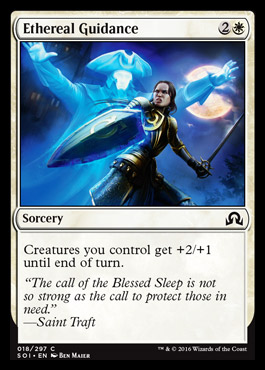 Looks really underwhelming, doesn't it? Well, when you have a board full of tokens, this is quite serviceable. Three mana to pump +2 power is quite massive and one extra toughness might make few of your saprolings to live in the aftermath. Being sorcery sucks, but if you are playing tokens, you aren't exactly the craftiest of mages and are just looking make equations like 2 * 6 = 12 more power for just one card and three mana.
This is perfectly playable in token decks, but naturally not in anywhere else.
Verdict: Niche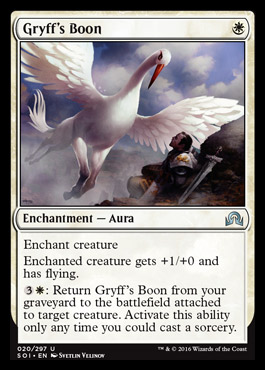 Flying is pretty nice evasion and with the cost of a single mana, you will also get +1 to boot. Sort of like Rancor, but different in all the right places. Also, you do not cast the card the second time for what it is worth. I personally do not like Rancor too much in this format and this is slightly toned down version of that, still it is in my opinion, either really close to being playable or just playable enough. I'd steer clear for now, but I am not surprised if I lose to this card at some point.
Verdict: Niche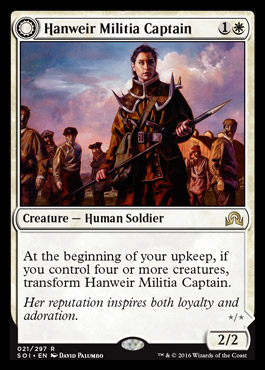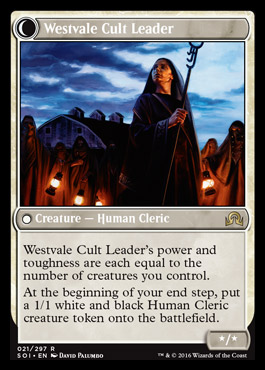 Sorry, two mana 2/2 with no abilities does not cut it. How about flying? Menace? Or anything?
And the flipped side isn't that powerful either. This isn't 1997 and Verdant Force isn't the best creature ever, this ability is not worth the setup. Also, flipping this doesn't prevent you from losing to cards you would lose to before it transformed.
Verdict: Unplayable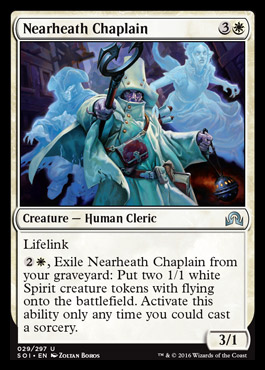 He can be cashed in from the graveyard, so there is a corner case waiting to happen. Maybe you can flip your whole deck to graveyard and are just looking for ways to get some sacrificial lambs into play to flashback Dread Return. This can be one of the options, even if we probably have better cards in Lingering Souls and unearth dudes. Still, it is a fairly unique ability. Really do not think so, but if building wacky combo decks is your forte, do not forget this little fellow.
Verdict: Unplayable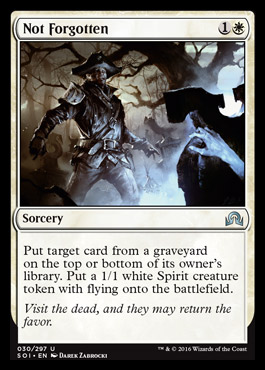 Soon ripe. Soon rotten. Soon gone. But not forgotten.
Hah. Let's see how many of you get that reference.
Anyway, the card. It is graveyard hate and way to make your opponent draw a fetchland in the late stages of the game as well as Noxious Revival. Too bad it costs two mana. And is a sorcery. Fix either of those problems and this would have been a card. Right now, I really do not see a reason. Too cute and lacking in power, I am afraid. This card isn't living up to its name.
Verdict: Unplayable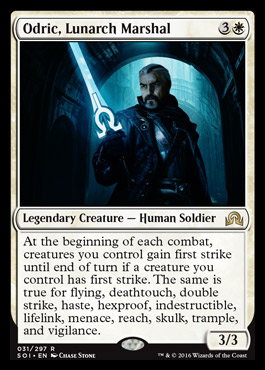 They forgot Banding from the list, rendering this utterly unplayable.
Verdict: Unplayable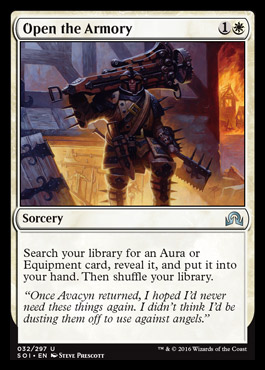 Cheapish tutor. Got to be worth something for someone, somewhere. This is even a bit more flexible than usual. For two mana this can certainly be rather nice addition to some decks.
Verdict: Niche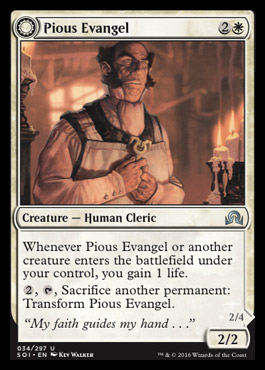 A bit too expensive, perhaps? If aristocrats are going to make an appearance in HL, this card is going to be either last one in, or first one getting cut after the first draft of the deck. You do not get the desired effect until you transform it and it needs two mana, a permanent and a tap symbol. You do get one life upon arrival and unflipped side does things that are relevant, but I just feel we need a bit more before we can call this one a good card.
Verdict: Unplayable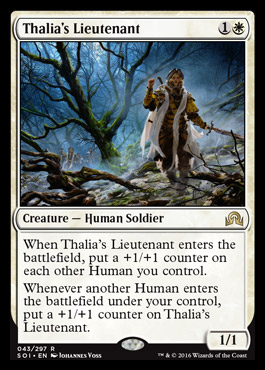 Human synergies have begun to matter more and more, but I have hard time imagining this guy anytime soon in competitive circles. Mere 1/1 alone is not scary enough and playing worse creatures to get the bonus for your other guys is not the way to go. Although, the more Gather the Townsfolks we get, the better this guy gets. I am not going to say he is straight up unplayable, since the ability is really powerful, I just don't want to play too many non-humans in my deck when Thalia's Lieutenant is present. Right now, we don't have insane amount of good human synergies, so Mr. Tenant might need to wait a bit for its the time to shine. I do believe the time is at hand, though. Might as well be now, but I would wait a bit.
Verdict: Soon. Very soon.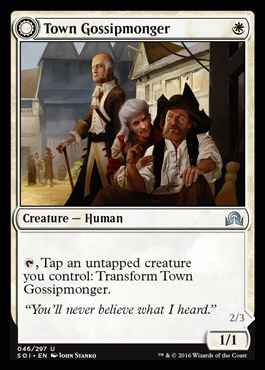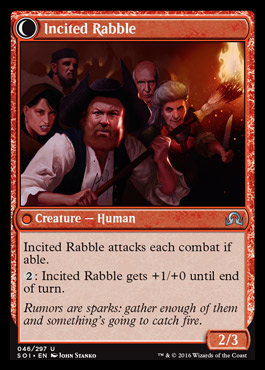 Thematically, this card flips with a flavor win.
So, is build-your-own-Kird-Ape good enough, or should we just stick to the original? Well, the costs are quite severe. It starts as a 1/1, you need another creature and you miss the first attack. That is not something Kird Ape is known for, in fact if you do not get some damage in immediately, you might have missed the chance. During the night there even is a pretty severe drawback which is more relevant than the expensive pump. I dislike Town Gossipmonger as we probably are getting enough one mana, two powered creatures to fill most decks that want them. No need to waste time and money to make one. Not to mention, sometimes you just don't get another creature to stick around and this is just plain horrible.
Verdict: Unplayable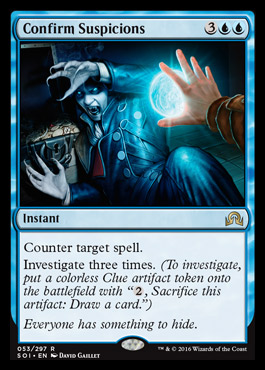 Counter target spell and draw three cards is like the wettest dream a control player can have. Too bad this costs five, is very situational and requires you to keep spending the mana to reap the benefits. I need to give this one a go to confirm my suspicions, but I am rather sure this isn't going to be anything spectacular.
Verdict: Unplayable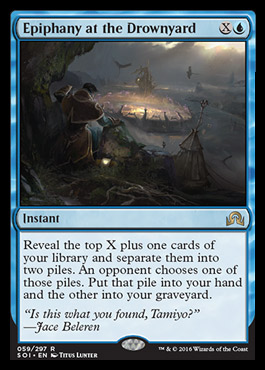 Fact or Fiction has become a fair card recently. No really, I much rather cast Dig Through Times or Treasure Cruise for much cheaper price. If we were to compare this to FoF directly, we would flip one card less and would need to hit all good cards to get same effect as a decent FoF flip.
Obvious benefit is that we can actually adjust. If you have 18 mana, you will get some decent 9-9 splits, but then again 18 mana and FoF tends to be winning combination as well, funnily enough.
Looking the other way, casting this for two mana early game is surprisingly decent as if you flip a spell and a land on turn two, your opponent doesn't know which one you need more. Still, rarely the winning play, but if you are paired against burn, you might need to commence desperate measures. For three mana this can create some insane mind games, but it is so often straight up better for your opponent to give you 50% less cards in those scenarios so that probably doesn't come up like ever. Still, you have some control over what you might get in that scenario.
Funnily enough, this might make Epiphany at the Drownyard good enough. One of the big reasons not to play Fact or Fiction is that four mana investment is quite a lot. Against fast decks, you really do not have the time to cast it until you have effectively already won the game and this can still draw a lot of cards during long games, if you do not need to cast it early on. This being castable with two mana is so incredibly valuable in fast paced games it isn't even funny. I am saying this even when it is rather apparent that two mana Epiphany is rather horrible, but FoF doesn't cycle ever.
It is easier to protect as well, since you can invest as much mana as you want into it in control mirrors, so there is lot going on for this card. Graveyard synergies also help. I mean, if you are playing Epiphany at the Drownyard, you are playing Treasure Cruise and Dig Through Time as well. Filling the 'yard is valuable in those decks.
I know this is a bold claim, but I rather play this over Fact or Fiction right now, although extensive testing might make me change my mind. This rant also might stem from the fact (or fiction) that I am trying my best not play Fact or Fiction in my decks due to it being rather mediocre right now in most matchups.
Verdict: Niche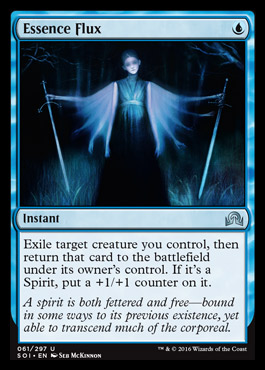 It is one mana blink. Don't know how valuable these are, but they have a potential to be. Not going to give too much a grade, though.
Verdict: Unplayable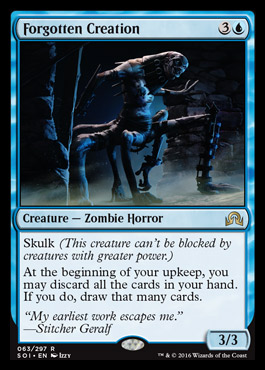 Body is very mediocre for the mana cost, which is too bad since the ability is quite good. Cycling through your deck and playing the best card every turn is enough to win the game in course of few turns. Cards also hit the graveyard, so synergies.
If this were a bigger monster or a two mana enchantment, I would be all over him. As it stands, you would need a very good reason to play this card and I do not think there is one. I do not want to forget this dude, but we all know it is going to happen. :(
Verdict: Unplayable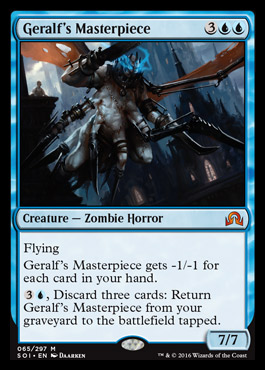 It comes into play from graveyard, which is always worth something. If you are doing some extreme graveyard synergies, this is a decent payoff and a synergistic once at that. Decks that want this probably prefer to discard cards as a cost anyway. I don't quite foresee this being powerful enough, though. The payoff for graveyard shenanigans are usually some form of engine (Loam + Wasteland/Raven's Crime/Seismic Assault) or reanimate into something ridiculous. This is neither and quite a lot weaker than what options A and B offer. In his defense, he is not that demanding of a card. All you need to do is to discard some cards you probably want to be in the 'yard anyway and you have a decent sized creature.
Verdict: Niche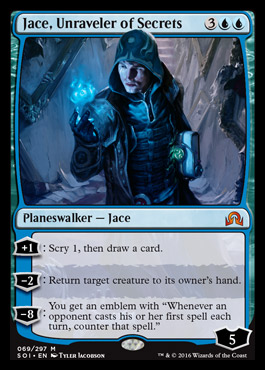 Jace, Reignited. I could copy and paste what I have from Ob Nixilis to here and be done with the day. I do think Jace is better as not losing a life and getting scry 1 is much better. Bounce is about as good as removal when you deduct the one loyalty loss from that. You can bounce twice and still have Jace reigniting your hand afterwards. Solid planeswalker, but it does cost five and Ob Nixilis is not a powerhouse, so upping the power on that one isn't going to make this automatically great. Also, the ultimate is way better, fwiw.
Verdict: Niche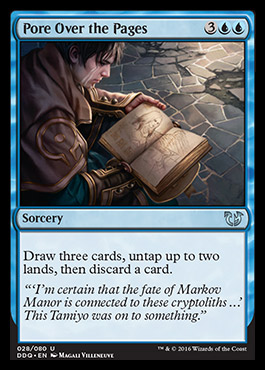 Well, if one of the lands you untap is Tolarian Academy, you have quite the deal. Most likely, netting you mana and getting some sweet value. Sadly, single High Tide doesn't produce mana with Pore Over the Pages, but I imagine this having some value in that deck. Another Mana Flare effect and we are really doing something. Even one Tide effect means that you are paying one mana to draw three and discard the weakest card in your hand. This is reasonable but not insane. You can also cast this without comboing off and have a Counterspell up on your opponents stuff.
I assume this is rather good with Tolarian Academy, but might not make it into High Tide. Purely for combo purposes, though.
Verdict: Niche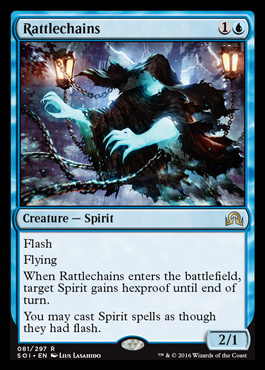 I still do not think you should play straight up two mana flash fliers in your decks, but if you disagree and want to rattle my chains, here you go. Unlikely that the last two abilities on this card matter, so probably better to think this as a beater and nothing fancier.
Verdict: Unplayable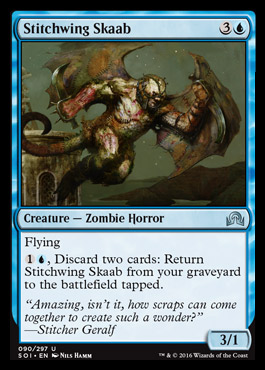 See Geralf's Masterpiece for more info. This is less of an actual beater and more of a synergy piece. This might make Stitchwing Skaab better, but I think the power that Geralf's Masterpiece offers is going to matter more. Though, if you feel playing one is good, it is rather likely that you want them both, so this gets the same grade.
Verdict: Niche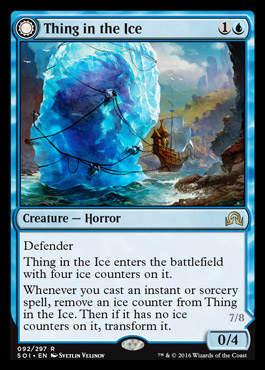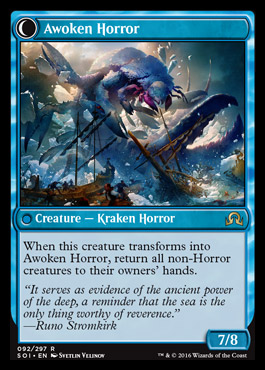 Ice, ice, baby! It is not quite the blue Wall of Omens, but closer than it might at first seem.
It is not a great topdeck late in the game, but control decks have a lot of powerful card draw to unleash this quite fast even if they are relatively empty handed. Think this as a slightly weaker Young Pyromancer and you have a sense when to run this. 4 toughness is the real key here. Most one, two and three drops are not getting past this and if they can't or won't kill this. Even if you don't transform this, that alone can devastate their tempo.
Also, when you do flip it, it kills them, I guess.
Not absolutely amazing, but better than it looks for sure.
Verdict: Archetype Staple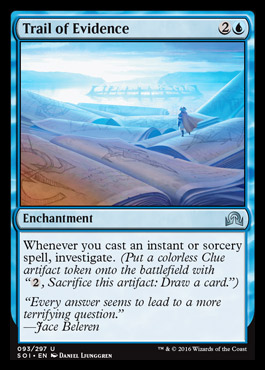 I so want to go off with Tolarian Academy with this thing in play. This clearly isn't worth it, but I need to experience that before I die. Bucket list material.
Verdict: Unplayable (except for that one time)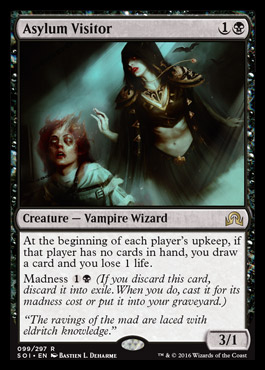 Blood Scrivener got some serious push. +1 power and triggering on every upkeep is very reasonable. Madness shouldn't matter very often, but you do want to play Liliana of the Veil in the same deck as this anyway, so never say never. I'd say this is very good for any black aggro, not that those decks have been appearing at all recently. Sadly, this visitor alone isn't enough of a reason to start playing them. Hopefully we get some more.
Verdict: Archetype Staple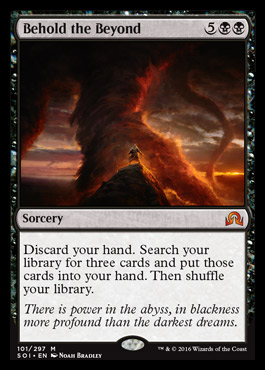 Behold the Beyond is interesting because I believe unique cards can attack the metagame from a bent angle.
Belittling Behold the Beyond is beneficial, as discarding one's hand is best left for professionals. But, because the card is powerful, I am giving it a better grade than it might seem to deserve. Beauty is in the eye of the beholder.
Beyoncé.
P.S. This is quite cool with Dream Halls or Omniscience. Wins the game while being actually castable unlike Enter the Infinite or something silly like that.
Verdict: Niche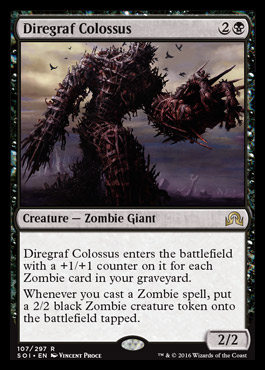 Zombie synergies are perfectly decent already, this seems like a reasonable addition to the team. Don't know if the deck is quite yet ready for serious play, but we are seeing new toys every once in a while.
We are getting there slowly but surely, just like a zombie.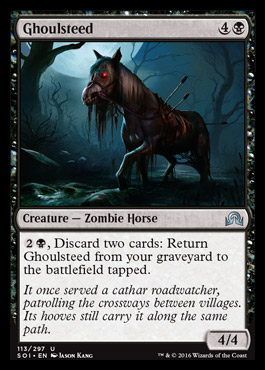 Blaah, blaah, blaah. All the same stuff applies as with the blue creatures.
Verdict: Niche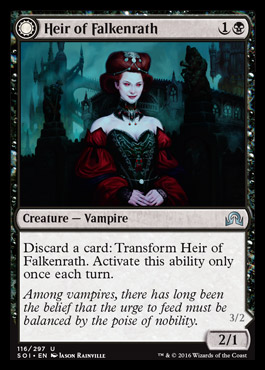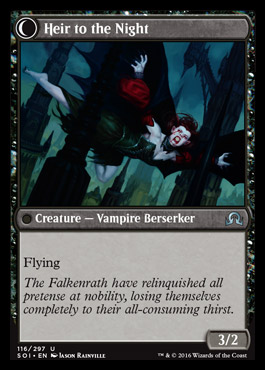 As with zombies, vampires have their synergies. This is decent beater in synergy based aggro, especially if you have some graveyard recursion or whatnot. Boring role player in those decks. Not much to talk about otherwise.
Verdict: Niche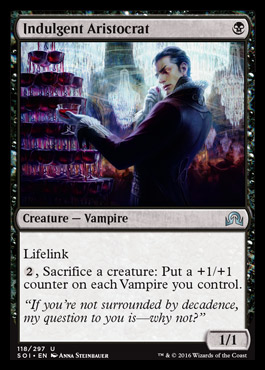 See above, but this one is much more of a role player. Otherwise it lacks power, but is really powerful in the right shell.
Verdict: Niche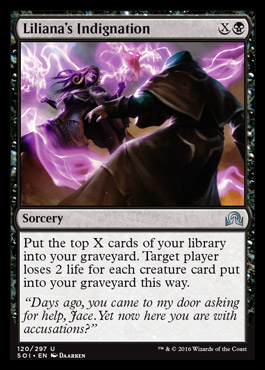 I would rather be gaining life than making opponents lose. Still probably not even close to being playable, but at least you would be even somewhat synergistic.
Verdict: Unplayable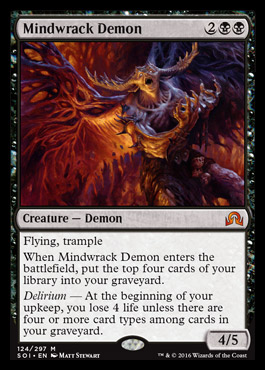 This is a hefty drawback, unless you get that Delirium. All things equal, this actually kills you faster than your opponent. Now, with the ability, which is a plus because of Delve anyway, you are rather likely to avoid that. Sometimes, though, you don't. In those cases Mindwrack Demon needs help from other damage sources. And you need to commit to casting this before you know what it flips. I really do not foresee ever winning if I make the gamble and lose against RDW. Zero mana Flame Javelins are surprisingly good.
If we assume you get easy access to Delirium the upside is… rather mediocre. You do get a creature which at this stage of the game is slightly ahead of the curve, but only slightly. Stuff like Abyssal Persecutor are good cards because they matter throughout the whole game and the drawback is barely a drawback when your deck is constructed well. Mindwrack Demon has a drawback that is less likely to do anything, but when it does, it does that in spades. Mindwrack also isn't big enough to make you want to play this creature regardless of those times when it goes berserk.
I don't think you want to play this card over something like the aforementioned Abyssal Persecutor, theoretically I can see decks that want these both, but I am skeptical about those decks and their chances in life.
Verdict: Unplayable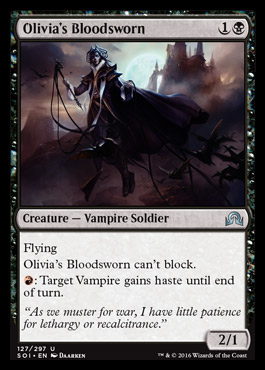 Decent vampire. Requires vampire synergies to be playable, doesn't require red mana to be playable. Both are preferable, though.
Verdict: Niche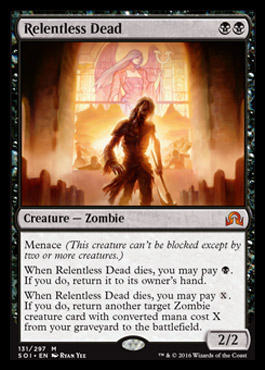 2/2 for two with a wall of text. Really hard to understand until you play with the card couple of times. Menace is quite fine, simple and easy to wrap your head around. What comes to this coming back from graveyard is a bit tougher one to swallow. If you have no part in killing this guy, you might want to keep black mana open and this is fine. It is pretty okay creature to keep recurring with sacrifice outlets. The last ability is a bit tougher. Great in zombie tribal, but otherwise it is not easy to find a target. Also, requires some insane amount of mana to pull that off, especially if you are relying your opponent to kill this.
Since it can block, as lot of these black recursion creatures do not, I would be pretty happy playing this in any black aggro. It can blank a big attacker or keep trading with little ones even in the late game and any kind of synergies you can throw at Relentless Dead are going to make it overperform. It is not even that hard to find something synergistic, since any zombies or sacrifice outlets make this already pretty tight little package even firmer. I like this, but black based aggro is in trouble. Innistrad is a prime source for more help for those strategies and the next set undoubtedly provides even more tools. Cards like Relentless Dead are good reason to try.
Verdict: Niche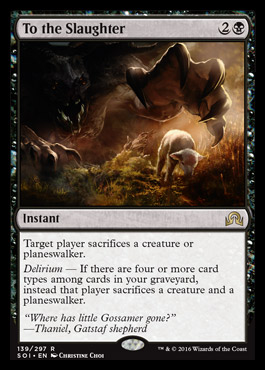 I don't want to give my opponent the choice of sacrificing either a planeswalker or the token it produced. That seems horrible. Delirium isn't super hard to enable in HL, but I really do not want to rely on that when the payoff is just negating what they did on their turn. You are not getting ahead in those situations and if they do not play their Elspeth, your card might not even do anything. Let Mary keep her little lamb.
Verdict: Unplayable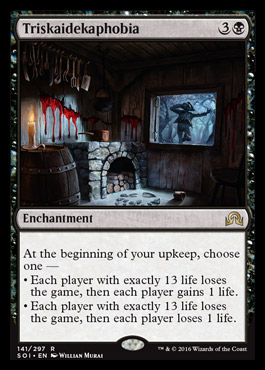 It is a cool card, but a horrible as well. Not only does most of the HL deck have ways to manipulate their own life to undo all the work you just did over several turns, you are putting yourself at risk as well. This is very slow way for you to bleed them out if they drop below 13. Four mana for very, very slow card is not what aggro decks ever want. Do not be afraid of the numbers. They don't even lie.
Verdict: Unplayable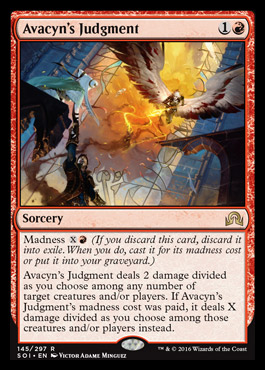 Casting this normally is playable, but only barely. I like Fire/Ice, but that is because of ice. Avacyn's Judgment isn't even an instant. Well, I guess it is when you madness it. Then it becomes a fireball. Magical Christmas land will enhance this to beautiful proportions, but most likely you are killing something with a very expensive removal and hitting your opponent for one or two. That is hardly ideal and despite the "regular" card being perfectly decent, I just don't see this being good enough ever.
Verdict: Unplayable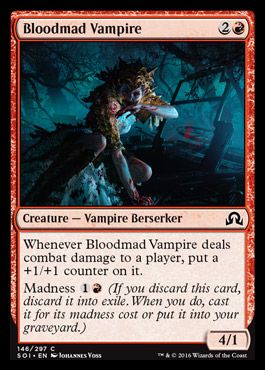 One of the few cards in this set that has some use with madness. Actually big and cheap enough to be threatening. I consider this still very narrow and you need to have deck that actively wants to do madness stuff and that is a deck from so far past it isn't even funny. We would need way better enablers than we had back then and the payoff is all Arrogant Wurms and the like, not exactly insane by any stretch. I think this can't really be a deck, but maybe when we revisit this mechanic or the next set goes madness overdrive, we might have an actual reason to try.
Bloodmad Vampire is probably going to be one the better cards in that deck, but this is still incredibly fragile and you need to clear way for this. Right now, the deck is unplayable and I feel that overall creature power goes up faster than occasional return to madness can keep up, so I expect that to say this way. Thus the rating.
Verdict: Unplayable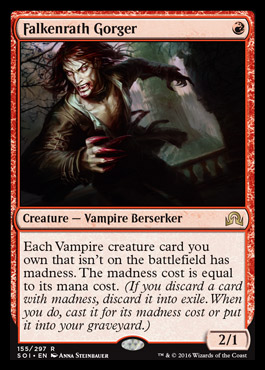 Is it just me or are these flavor text getting more boring recently? Anyway, two power for a single mana in red is extremely good. Doesn't matter at all that is has no text.
Verdict: Archetype Staple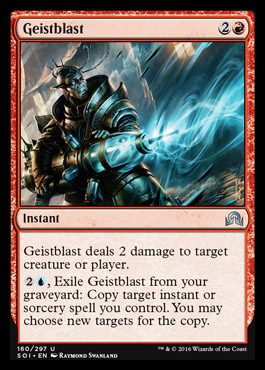 Well, aren't you a weird one? Bad removal, but potentially really powerful flashback. Only copies your own cards, which is a shame. Basically, if your game plan looks like this:
Step 1: Activate Hermit Druid
Step 2: ???
Step 3: Profit
Then you might want to consider Geistblast. This is a unique flashback thing, so there is always a way this makes other cards good and might even streamline some kills in these wacky combo decks. It even is potentially okay if drawn. Maybe even taking out something really annoying like Thalia, Guardian of Thraben for example.
Verdict: Niche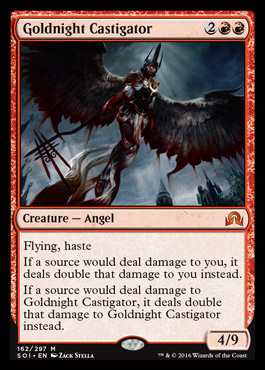 4/5 haste flyer with a drawback that restricts this to aggro only. First, the good news: Card is great in those decks. Just an amazing curvetopper most likely hitting them for 4 and then they need to deal with it. If they fail to do so, you probably win.
Then the bad news, RDW does not want to play four drops. Maybe one and that is Koth of the Hammer. Koth attacks in a different axis completely, so it sometimes deserves the slot, but I've begun to think that its time has passed. Goldnight Castigator is not the heir to that throne. GRx decks might have a spot for Goldnight Castigator, but they have so many great four drops already and their gameplan usually involves casting multiples of them to eventually overpower the opponent. Goldnight Castigator doesn't fit that game plan as it is something you just want to hit once with and assume it is getting dealt with immediately afterwards. This drawback comes into play if you are trying to race opponents and RGx decks tend to be controlling against most aggro decks until they superior lategame turns the tide. All the same reasons apply to most midrange.
This leaves Goldnight Castigator without a clear home to put this into. If you are playing little bit slower RDW that is trying to play slightly longer game with cards that matter more in the lategame, this is a good card there. Too bad, I don't think that is viable strategy right now. There could be a deck I am blanking about where Goldnight Castigator fits like a glove and I do hope that is the case since this is pretty amazing card.
Verdict: Niche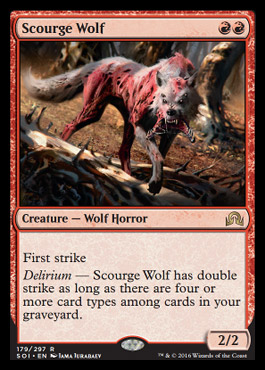 Mana cost restricts this to mostly just burn decks. Those decks do not have easy access to delirium, so this double strike nonsense is not happening in the early game, if ever. I think we have too many better options, although this is comparable to many other two drops in that deck. I personally would not play it, though.
Verdict: Unplayable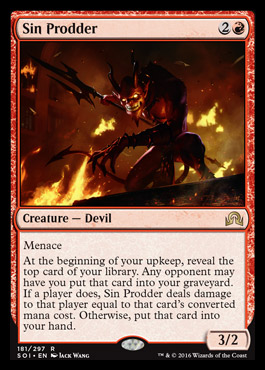 When it comes to RDW, three mana is a bit too expensive for a creature you have to wait a full turn to get anything out of. You also need to be rather aggressive for the ability matter at all. Otherwise opponents just takes the hit every single time. Not to mention, hitting lands does nothing. Opponent jus puts them on the 'yard and takes zero. Menace is good, don't get me wrong, but I don't think it is going to save this card. Only card I play in my RDW that doesn't have a haste or do something immediately is Boros Reckoner and I don't know if that is even correct or not. Remember, this is a fast format and I hate to give control decks target for their Oblivion Rings that break even in tempo war and generate nothing of value meanwhile.
I don't like this at all. Looks cool and powerful, but two toughness is so easy to remove, ability can be a horrible dud and three mana is a lot of investment. If you are behind against fellow aggro deck, you are not getting anything decent out of Sin Prodder. Also, this is the newest incarnation of punisher mechanic, meaning that it doesn't matter how great the other option is for you, you are never getting that. Opponent gets to dictate a lot about this card, so it is way worse than it looks.
Verdict: Unplayable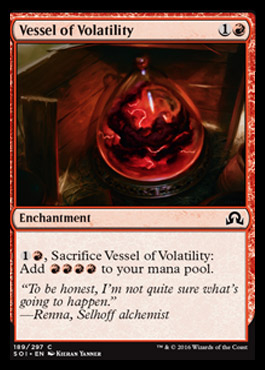 While this doesn't generate storm and ramp, it is still fine ritual. We do not have nearly enough of those, so each new participant are welcomed to the fold. Dragonstrorm is a card that requires rather little storm and just needs the mana to come together, so that is where I would start. This is probably going to be a tool for one or two rarely seen decks, so 97% of the readers can just ignore this one.
Verdict: Niche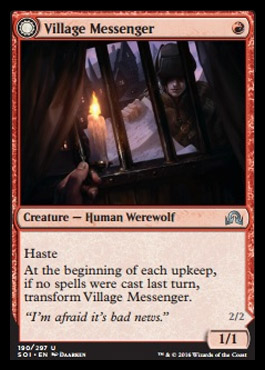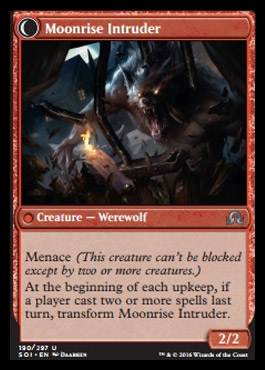 I was one those people who played Reckless Waif way past its welcome. I envision Messenger being slightly better, but we have gotten so many more better one drops for RDW that we really do not need to hope anymore. We are strong and independent now, just believe in yourself.
Just kill the messenger.
Verdict: Unplayable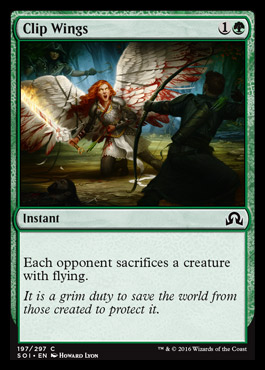 The reason Plummet sees no play is not because there are flying creatures that have protection from green. Clip Wings doesn't fix the problems of a card, which is already deemed unplayable.
Verdict: Unplayable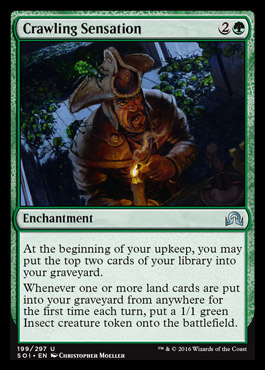 By the time this card really gets going, those 1/1 tokens have most likely lost their value. It is noce to get them from fetchlands, but you only get maximum of two every turn cycle and this thing costs three mana initially. A bit too much. I don't think even having synergies for generating tokens help too much. You really want to have Life from the Loam in the mix once you land Crawling Sensation. And when you do, it becomes a mere spectator observing all the cool things while Life from the Loam is actually winning the game with other synergies.
Verdict: Unplayable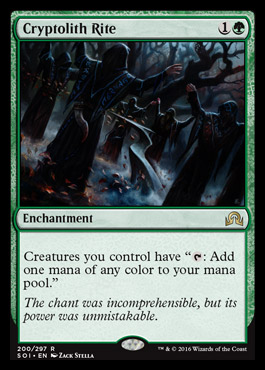 I have a confession to make. I like Earthcraft in combo decks. I do not like Squirrel Nest in those decks too much, but it is pretty decent tandem with Earthcraft, so that gets a pass. This sadly doesn't combo with it, but some token producers just go beyond mad when you introduce something like this. Gaea's Cradle is quite decent in the deck and allows some superfast Craterhoof Behemoths to finish games. Cryptolith Rite does the same, but at the cost of being an actual card. Sad, but I am inclined to try anyway. This isn't going to be anything too insane, or might not even be worth it to begin with, but it makes the deck a tad bit synergistic.
Verdict: Niche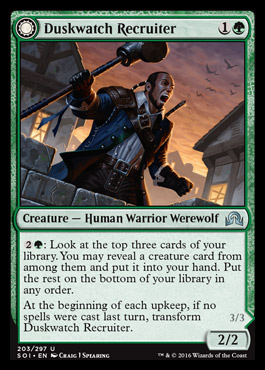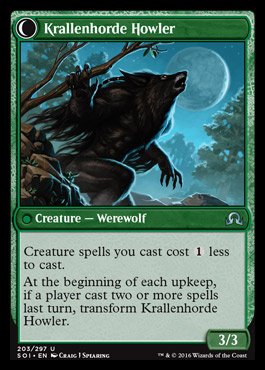 Okay, I can dig this. It is a two drop with reasonable stats and ability that draws cards. No restrictions even, just use it as an instant if you wish, or if you have all the mana, just do it again. Flipping is fine and reasonable to do when sometimes you rather activate the ability instead of casting anything. Final form is okay, but potentially much worse than the one with the activated ability. Makes this card rather tricky to play, but I think all the reasons to play card like this exist.
Not for the most aggressive of decks, that is for sure, but some type of midrange deck will probably have uses for Duskwatch Recruiter. Could even be that I am giving this too cautious of a grade. I hope this guy does well, seems sweet.
Verdict: Niche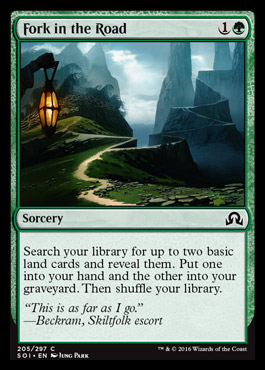 Strictly better than Rampant Growth. One extra card in the 'yard for Delve or Loam to snatch back is value, not great value, or even good value, but most likely value. I think. Actually, let's not overthink this. This is basically a Rampant Growth and thus playable in the format.
Verdict: Niche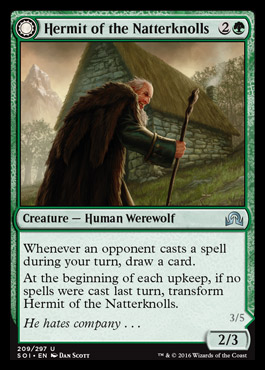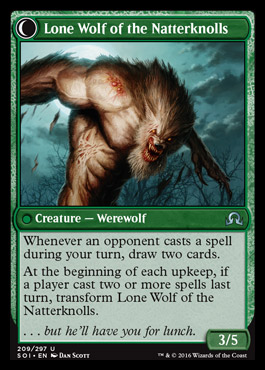 I like that both of the abilities on the unflipped side are synergistic. If they do not cast anything on your turn, and they have every reason not to, this is easy to flip. Flipped side isn't amazing though, just more of the same and stats aren't incredible, so the payoff is not astonishingly great. Furthermore, while this is great against some of the decks out there, those same decks can and will deal with this card. Then there are lot of matchups where this is rather mediocre. Aggro decks rarely need to cast anything on your turn, you are denying them some information by making you remove creatures on their turn, but that is not massive value. Hermit of the Natterknolls does flip rather easily against those decks as well, since he is synergistic and 3/5 is a roadblock versus decent amount of cards, but hardly something you want to get excited about.
Hermit of the Natterknolls is very mediocre and that is not good place to be in non-rotating format. I see no real reason to run this anywhere.
Verdict: Unplayable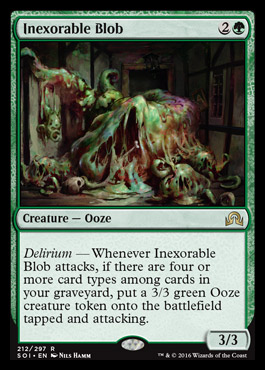 There are reliable ways to get Delirium when you are ready to attack with this. Pair this card with blue Mental Notes, Ponders and Brainstorms. Add fetchlands, shake firmly and you can attack for six on turn four. As a bonus, you get to keep those tokens. Having turn one accelerant into this requires you to pull of some specific set of cards to get access to delirium on the turn Inexorable Blob can first attack, but managing that you are probably going to win that game. This card gets so much better the sooner you can harvest some value out of it. It is going to require very specific type of deck and very few green deck is built like that. Still, this is a reason to try.
Verdict: Niche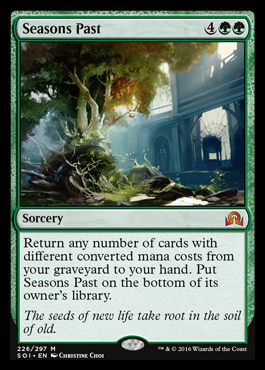 Okay well, this is extremely powerful. Too bad this can be compared to All Suns' Dawn and that card sees no play. For one extra mana you can be a little more flexible with your card choices, both when casting this and when choosing what cards to put into your deck. And I guess get lands back as well. Those upsides do not fix the problems which prevent All Suns' Dawn from seeing play, so I don't think we have a winner on our hands here.
It does kind of a cool engine if you manage to dump all of your deck in the yard. Then you can keep recurring this, but even then you need a ton of mana and even if you get your best land back every single turn it takes a while before that engine will win the game. Also, that doesn't happen in a normal HL game ever. But it would be cool way to win.
Verdict: Unplayable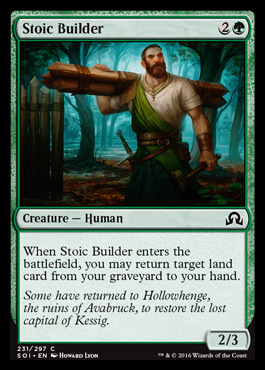 Well, with the fetchlands this is kind of like Civic Wayfinder, a card I feel is just not playable enough. Stoic builder gives us +1 toughness, but asks you to have that fetchland or Wasteland to actually do something. I don't think this is significant upgrade over the Borderland Patrol formula. It is on par with them, but like I said, I love those cards and even I feel like they are not playable currently. I am not saying there isn't a deck out there that happily plays this, but you need to have all the right reasons to do so. And if this is the effect you want, maybe Tilling Treefolk is more your speed?
Verdict: Unplayable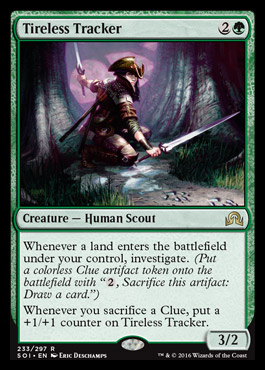 Fetchlands are obvious boon here. Getting twice the clues is decent. The body is not amazing, but it threatens to attack as a 5/4 if you have the fetchland, so it is not easy to block either. Clues are still just weaker cantrips and the more you have them, the less time you have to cash them in, so do not expect anything too crazy. It is more like solid creature in slower decks that might have some absurd mana ramp as playing stuff like Harrow will net you enough clues to rival Sherlock Holmes.
I don't think you have the time in a regular midrange deck to start cash these things in, especially considering how attractive it is to hold off casting Tireless Tracker until you can have the land drop on the same turn you get him. This will give you good amount of value, but the tempo hit is most likely too much for most decks. Is powerful and has its uses, but you need to choose your battles.
Verdict: Niche
Deliriumed version is great. Early game if you are craving for a land, you can cut your losses and just get that fix, but you really want to save this for perfect time in late game. One mana tutors are really powerful as they allow you to fetch and play the card immediately with minimal tempo hit. Green Sun's Zenith is great in the format as it allows players incredible flexibility at any point in the game to find what is best for the situation. You will get a card that is technically always one turn behind on tempo, but the flexibility is more than worth it. GSZ is one of the best and defining tutors of the format and if you have access to relatively early Delirium, you have a better version of that card in Traverse the Ulvenwald.
Key here is that you really need to get that Delirium in midgame for this to be really good. It is still fine if it takes a while, but in order to maximize effectiveness of this card, you really want to be able to find Reclamation Sages on turn four with this if situation calls for it. Later stages this is still pretty good as it can get your one-of six drop or something like that. Curves usually stop somewhere around six and you do not get too many of slot for those. Having good tutors to find those big haymakers in the late game is critical as sometimes you are just too far behind and need a big punch.
Also note that you can find nonbasics with the powered-up version. That is not nothing. I've given lengthy explanations about Karakas and how good it is in the format. This being one way to find that reliably is really good and it doesn't stop there. There are plethora of great land targets as well, like Volrath's Stronghold and Gaea's Cradle for example. And all this for one mana? So good.
Traverse the Ulvenwald is not immediately slam dunk for all of your decks, but UGx decks should be able to find ways to put instants, lands and sorceries in the yard with ease. Getting the fourth type is always a bit wonky, but creatures will get countered, Sakura-Tribe Elders will get sacrificed and Mental Notes get cast to get you there in reasonable time. Thought Scour being really good in the current world because of Delve helps this card quite a bit.
I am going to assume Delirium is not too hard to come by in turns 5+ where cheap tutors start to really matter anyway. This could very easily be the best card of this set. In fact, I am surprised if it isn't.
Verdict: Format Staple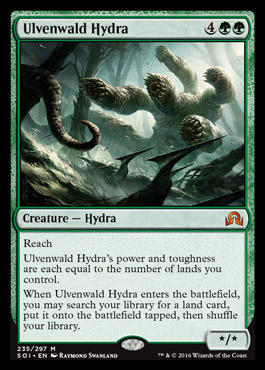 I just talked about how great land tutors are, but you rather pay one mana for that luxury instead of six. Incredible advice, I know. This would probably be a lot better in the format if not for Primeval Titan. As previously mentioned, you just do not have too many slots for six drops and Primeval Titan just trumps this always in so many ways. I cannot even fathom you wanting to play this alongside that. This isn't horrible and you could immediately find Volrath's Stronghold for protection, but once that is all said and done, you do not get more tutors when attacking. Hydra just becomes a big dumb beater and that is usually the opposite what decks that play Primeval Titan want. After all, getting this exiled means that you just spend six mana and got very little value for that.
Verdict: Unplayable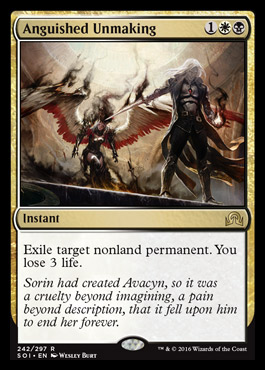 Three life is a hefty cost, but Anguished Unmaking is still just one of the better removal spells we have gotten a while. Instant speed and ability to hit just about anything is just so flexible. Exiling is the frosting on the cake. I like this a lot. If you are afraid of the life loss, you aren't living one the edge enough. If you are not living on the edge, you are taking too much room.
My deck needs to be very controlling for me not to even consider this if I am on white and black. They have enough access to flexible answers already and they really care about their life total enough that this isn't great there. Most others, I don't think you can go wrong with this one.
Verdict: Format Staple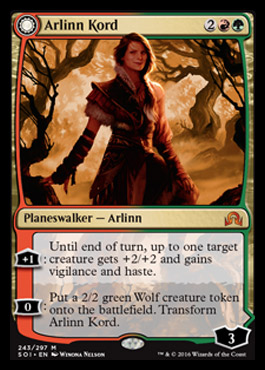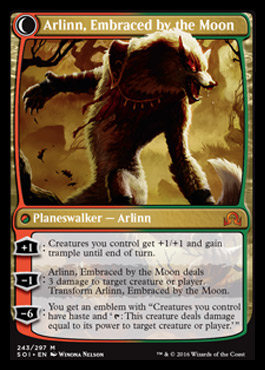 Not the simplest card to grade. We better start on the side that is facing you the first and try to figure out how she plays on turns 3-5.
First of all, during early game the first ability is usually rather weak, haste does nothing and +2/+2 seems like a lot, but during that part of the game we are still exchanging resources and hitting for extra damage helps only if one player stumbles. Against open mana you are exposing yourself to removal for massive tempo blowout. Vigilance is the saving grace here as it allows you to punch through while having the option of defending Arlinn with the same creature. It has uses in the late game specifically, but things are either desperate or really good, if you plan to start using this ability on the turn she comes into play.
Much more common play is the second one. Putting up some defenses, getting tangible value even if Arlinn gets dealt with immediately afterwards is much appealing in the earlier parts of the game. If you need access to the other three abilities, you need to do this at some point, so activating this might be necessary if your long term plan hinges on having furry friends.
Okay, so if you have access to the rest of the card, things probably look pretty good for you. Untapping with a planeswalker tends to do just that. +1 is quite likely going to very decent in these scenarios, nothing too fancy of an ability, but pretty powerful in reasonable amount of situations.
-1 is the way for you to generate even more value. Killing something means that you can make another wolf next turn, sadly you do not always have something to kill, but hitting the opponent will reduce the clock and kill planeswalkers. I assume you want to do this more often than not as emblem isn't too good and making more wolves is quite attractive payoff.
Okay, so how good she is then? Well, luckily we have Garruk Relentless we can compare this to. Garruk can remove creatures immediately when it comes into play, but it can't kill more than one creature per lifecycle. Garruk also cannot shoot opponents and survive against Trained Armodon's. I don't think you want the ability kill something immediately over the more flexible potential Arlinn offers, but that will change wildly with deck choices. There is also room for both, although recently I have been cutting Garruk Relentless from most of my decks, so I don't anticipate playing Arlinn too often. Still, I like her better than the other flipwalker, so might as well try it.
Verdict: Niche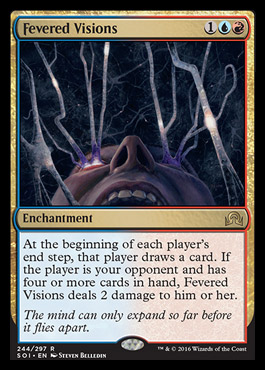 Okay, this is pretty decent howling mine. Not only will you get the first card, opponent doesn't get any if they kill it sorcery speed. Which, is the most common method of killing enchantments currently. I am looking at you specifically, Oblivion Ring. The damage doesn't matter insane amount, but it is a clear plus. Also attacks planeswalkers.
Still, this is a Howling Mine. You don't want to play this in decks that are not built to play well with them. I really do not mind seeing more of these, upping powerlevel of a card that doesn't see play in the format is a good thing. Also those decks really want duplicates of this effect anyway as they will struggle if they do not find one in a reasonable time. It doesn't do a whole lot good for the format, but every little bit helps.
Verdict: Niche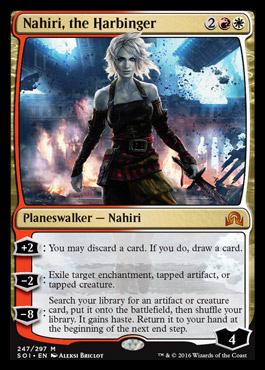 There are lot of reasons to like Nahiri. First, she can kill something relevant upon entering play. Engineering a game state where she gets to exile the last threat is not incredibly hard when you build your deck with that in mind. First ability isn't very good, though. Rummaging isn't powerful, but I do love the fact that you get two loyalty out of that. And going deeper into your deck is still valuable, no matter how you do it. Ultimate is rather bizzarre. It is not bad, but it requires rather specific deck to be really good. This is more relevant than normal when you consider that she can get there quite fast with the +2.
Most likely this is going to be corner case 'walker, where the decks that actively want to run her are able to make it so that opponent doesn't have too much to work with after Nahiri exiles the last of them. In those decks they tend to have a lot of matchup specific cards so the first ability to get rid of the wrong half of your deck is going to be pretty valuable. I have few brews I am excited to be able to play her, but I don't think those decks will ever be too good even if Nahiri is the natural fit and pretty decently powerful in there.
Verdict: Niche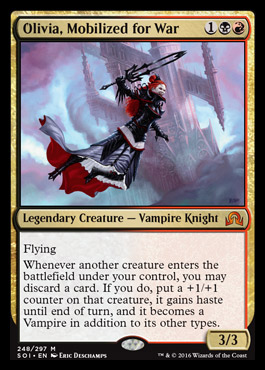 She is fine. I really do not know what else to say about her. Good evasive body for the mana cost. BR aggro hasn't exactly been major powerhouse recently and no matter how mobilized for war you are, it doesn't change the fact that Olivia will not fix any problems the deck has. She just ups the powerlevel of the deck somewhat.
Ability is powerful, but also really costly. I would assume most follow-up creatures in decks that play Olivia have haste already, but Battlegrowth is still significant if that allows you to push through some blockers. Even then that cost of discarding a card is massive, I have a feeling that this ability, when used correctly, doesn't come up too much.
Goodstuff could play her, but there so many good three drops and even if this gal is putting the 'vamp' in vampire [citation needed], she is still just a beater. If that is the way you want to go, she is there for you, but I would be hard-pressed to find a scenario where she is better than anything that gives you immediate value.
Verdict: Niche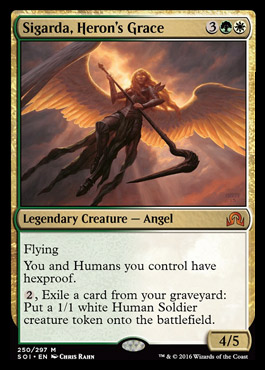 Dear me, why don't you have hexproof yourself, woman? Not generating any advantage when entering the battlefield and rather marginal abilities even when you get to untap with Sigarda does not bode well. In fact, I don't even know would the hexproof even do it. As it stands, I don't think there is too much reason to run this card.
Verdict: Unplayable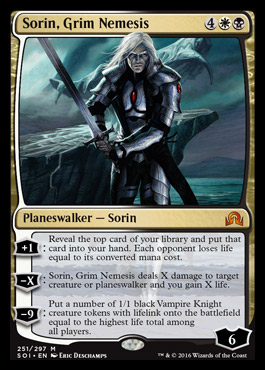 Six mana! Six! This is so incredibly expensive it better win the game on the spot or at least make it so that you get incredible value for committing playing it.
Grim news, Sorin. This isn't even close. All the abilities are fine, but they are not powerful enough. Six loyalty is nice, but it is so expensive to protect this guy and he only protects against one creature. +1 is great, but you get the exact same effect from planeswalkers that cost full one mana less. Making opponents lose life randomly isn't going to win the game often enough for this guy to be worth playing.
Verdict: Unplayable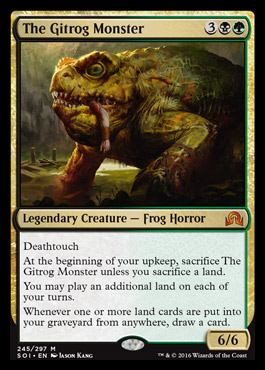 When you first read through this card, chances are you just see that fetchlands draw you a card. This is pretty good, quite obviously. The Gitrog Monster does have a massive upkeep cost to counter that, but it does draw a card off of that as well, so not all is lost. Getting to play extra lands is very good as one of the biggest problems is that you have fewer resources than your opponents when playing cards like these. Having a steady stream of lands makes this monster a decent card advantage engine. Life from the Loam and Crucible of Worlds naturally being the obvious cards to pair our little monster with.
Stats are good, five mana is still a lot and you might want to play this in a situation where you have that one fetchland open to get some value immediately in case of a removal. Highly synergistic card, but I feel that rewards are there if you build your deck accordingly.
Verdict: Niche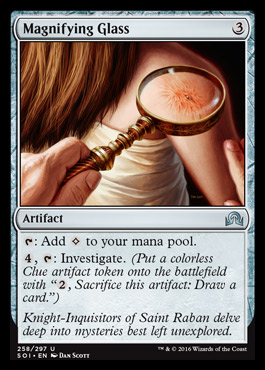 This is expensive way to draw cards, but you are ramping mana and generating artifacts for something like... I dunno... Tolarian Academy for example, so this starts to look like an actual card. Academy also makes it easier to start cycling through your deck despite this being rather expensive. I think this has merits in that deck specifically, but I don't think it is going to be amazing. You might have a slot for it, though. It does few decent things and it doesn't do anything exceptionally bad.
Verdict: Niche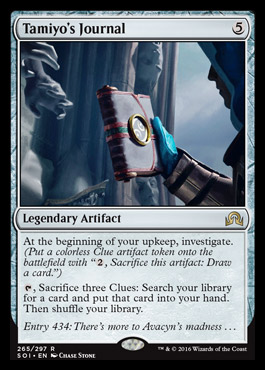 Really needs an ability or two to make the cut. Five mana is a ton and you need to wait until your next upkeep to get any payoff. There is never going to be enough good clue producers for HL deck to feel comfortable to play this in the course of a normal game and expect to be able to immediately fetch for something. Stick to audiobooks.
Verdict: Unplayable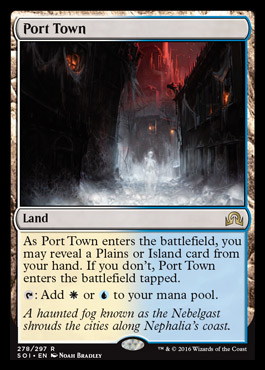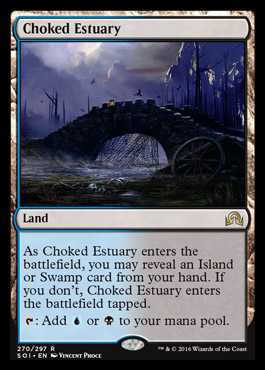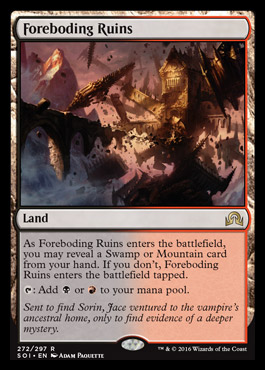 Well, maybe in two-colored decks. They are usually running enough of basics to get this into play untapped. In most three to five colored manabases you cannot run too many basics and duals are usually fetched, rather than drawn. Fetchlands or other nonbasics do not count and you need to run them in those decks to make the mana work, so there is no reason to touch these.
In two colored manabases you probably do not need this too bad, unless you are aggressive and/or have triple costs in both of your colors. Still, it is an option to consider if you still feel like needing more fixing.
Verdict: Niche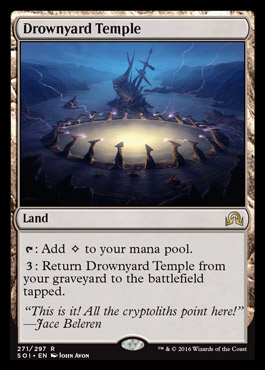 I am sucker for unique effects and obscure synergies, so it should go without saying that I love this design. It isn't insane, as you can clearly see. Basically it is ramp for three mana that doesn't cost a card if you can discard it or whatever. Still, free card in a frame that already is just a mana producing land can sometimes just be really good. I can't think of a situation where this is just what the doctor prescribed, but that doesn't mean it doesn't exist. Or it won't exists in the future.
Right now, you would need a ton of reasons to play this card, so unless you are feeling adventuresome, you should steer clear. Still, keeping this in the back of the mind for future purposes might be worthwhile.
Verdict: Unplayable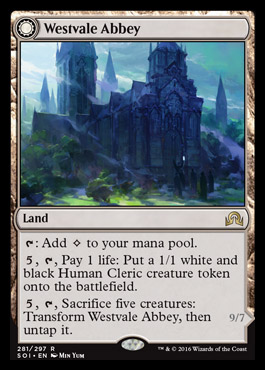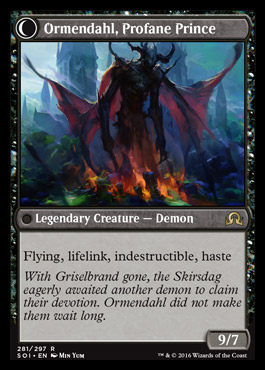 This is very interesting card. Not only is it a mana producing land, but the ability is rather weak on its own. We have cards like Urza's Factory and Vitu-Ghazi, the City Tree, but neither of those cards really see play. What this means is that you need to actively look to flip this card for it to be worth it. Flipping unfortunately comes at a high cost. Sacrificing even five tokens is a hefty cost as you look to lose so much to one removal. Luckily, indestructibility dodges some of those and lifelink means that flipping this is game winning plan against burn and most other aggro decks.
Following this train of thought, the token producing ability is really weak against very aggressive decks, so you don't want to rely on it solely to get this thing off the ground. Against slower decks, making steady stream of tokens is fine, but most HL control mirrors end when other player starts to chain card draw unchallenged. Bunch of expensive 1/1 tokens hardly matter in that scenario. Still, this is a land that taps for mana. I would consider this in a token deck, but even there this might not make the cut. In other decks, this seems too weak until you flip it and then it becomes too risky against most decks.
Verdict: Niche
My top 4 ways to kill werewolves:
Shoe polish

Gravy granules

Black pudding

Cillit Bang
As expected from Innistrad: Loads of cool niche cards to sink our collective teeth into. Nothing extremely fancy, but Anguished Unmaking and Archangel Avacyn are quite great cards. I also expect a lot from Traverse the Ulvenwald, might just be the best card in the set. Either that or Falkenrath Gorger.
Thanks for reading and keep on investigating.
Janne Öhman