If a card is not mentioned in this article, I don't think it is good enough to see play and I was too lazy to make jokes about it. Or I missed the card, feel free to mock me.
I will gladly read any comments you might have. I really want to ignite discussion with these reviews, so if you feel you want to say something to me, leave a comment. I will read those and try to reply, if I feel I have something to add (and probably reply even when I don't).

Since I don't believe you can give any kind of accurate rating for magic cards with numbers or letters, the grading system I use is as follows:

Format Staple - Played in multiple decks and a card you will see over and over again in a Highlander tournament. Usually you need to convince yourself not to play these cards if you play those colors. Examples: Lightning Bolt, Sensei's Divining Top, Jace, the Mind Sculptor

Archetype Staple - See above but in a smaller scale. Probably only goes in one deck, but does some excellent job there. Examples: Crusade, Flame Javelin

Niche - A card that doesn't have a deck currently, but is playable in a vacuum. Or the deck the card goes into just isn't good enough for a serious tournament play, but the card itself is good in that deck. I usually grade lots of cards with the "niche" rating since there are so much you can do in HL and so many different archetypes feel like they are just a few cards from being a real deck. Examples: Glistener Elf, Invisible Stalker

Unplayable - These range from hilariously horrible cards to almost making the cut. The thing is, there are a lot of cards in the format and it's not that easy to break through a wall of established cards. If you have a budget deck, there are a whole lot of cards in this category that actually do you some good and are able to win games no other cards in the situation can. Examples: Batman: Arkham Knight on PC (this really shouldn't be a timely joke anymore)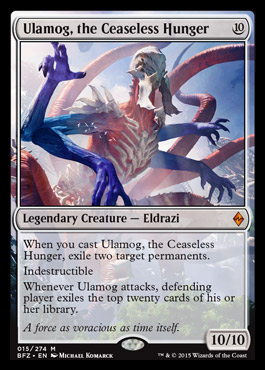 I like the cast trigger. I dislike the lack of annihilator trigger. I really do not like the mill twenty trigger. Despite its flaws, new incarnation of Ulamog will pop up here and there. Probably a little less frequently than the original one, since cheating this into play is not insane, but I guess he could be reanimated this time around, so there is a trade-off. Not the greatest of targets to reanimate, mind you, so do not play this in full-on reanimator.

Verdict: Niche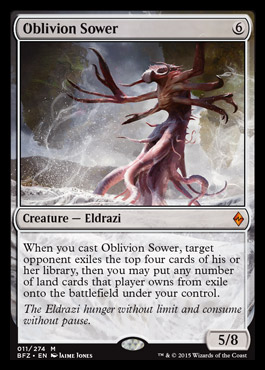 Is this better than Wurmcoil Engine? Well, no.

Is it playable still? ...probably not, I am afraid. 

Ramping to eight, or in magical Christmas land to 47, doesn't matter as much as ramping from two to four. 5/8 isn't powerful enough for six mana and no other relevant abilities makes this a rather poor play. Oblivion Sower does trigger when cast, so that is clearly a plus and yes, there is a possibility of you hitting two manlands, Karakas and Wasteland for much value if everything goes right, but I'd rather spend one of my three wishes for chocolate or something.

Verdict: Unplayable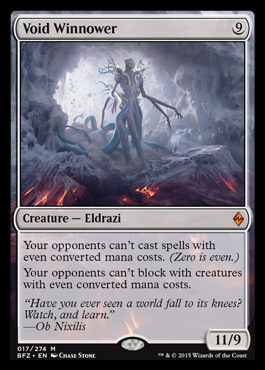 What is this I don't even

Verdict: Unplayable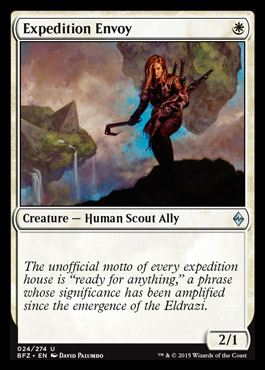 Savannah Lions would envy his creature types. Human actually being beneficial.

Verdict: Format Staple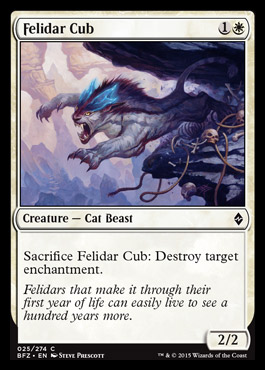 We've had more of this card with different names than anyone will ever need. Still, bears mentioning as it has somewhat relevant creature type in beast.

Verdict: Niche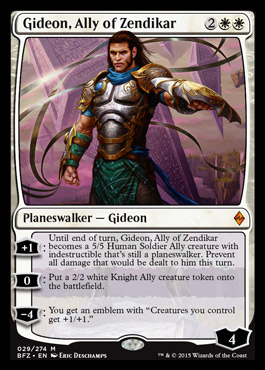 A very solid planeswalker. 

Will pressure other planeswalkers and protects itself while having relatively high loyalty for a four mana planeswalker. I also like how you can immediately activate the ultimate whenever you really need that extra punch.

Basically, Gideon is pumping 2/2s turn after turn and occasionally picks up the sword? whip? batarangs? to eat a planeswalker or for maximum pressure. This makes him an excellent tool against control. He is fine in control, but isn't insanely good against aggressive strategies. Any white playing aggressive deck is going to want a copy of him, especially if your metagame is full of control.

Verdict: Format Staple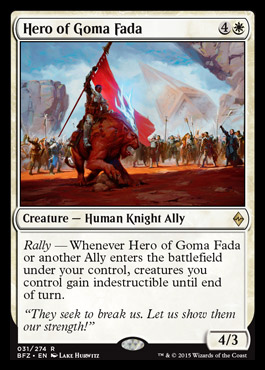 If you cost five and aren't a planeswalker, we are going to demand a lot from you. 4/3 with a rather marginal ability just doesn't belong. I can't stop you from playing allies and just riding the sweet synergy train all the way to the bank, but just be aware: that bank is in Greece.

Verdict: Unplayable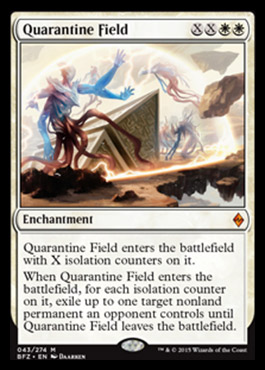 Four mana Oblivion Ring is not the worst deal you can ever make, if the upside is there. I am not quite convinced it is, though. Double white is a slight annoyance but probably not a huge problem. Six mana to kill two permanents can easily be very powerful, but most six mana cards kind of are powerful anyway so that shouldn't come as a surprise. Getting this Oblivion Ringed is very bad as it does nothing if it enters the battlefield again from exile. I probably pass, but I know I will at some point try this one for real in some deck, so I can't guarantee anything. Also, the effect is potentially ridiculous for what essentially is only slightly too weak of a card, so it's not like playing this is handicapping yourself too much.

Verdict: Unplayable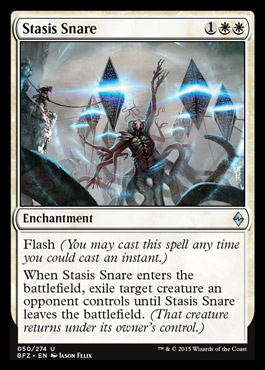 I'd say three mana is too much for this effect. Just killing a creature isn't worth it, despite Stasis Snare being an instant. WW really wants as much removal it can get its paws on, but there is a line and I think Stasis Snare crossed it.

Verdict: Unplayable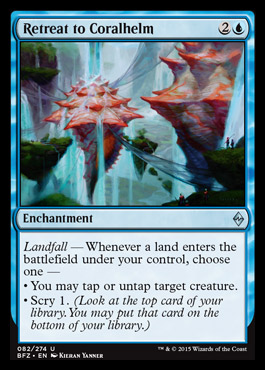 Knight of the Reliquary sends his regards. You can search out a lot of lands with that little combo. You are limited by the number of plains and forests you have in the deck, however. Scry 1 is not amazing for a three mana enchantment and doesn't matter during the combo too much as you will be shuffling the deck anyway. I don't think the combo itself is enough for this to see play either, it's cute and you probably can kill them if you have built your deck right and situation isn't too complicated, but active Reliquary is big game on its own and Retreat to Coralhelm kind of isn't.

Verdict: Unplayable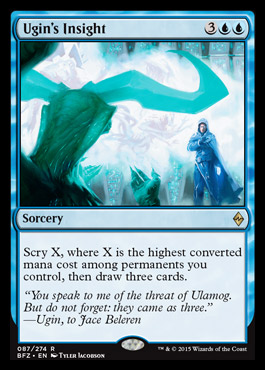 So at what number would this become good? I don't think scry 4, draw 3 is better than let's say Foresee. Scry 5 might be good enough, but if you have a permanent that costs five and are about to cost another five mana spell, you should be well and great off without having the card to be this specific. I think Ugin's Insight is just below playable with the current set of card draw spells we have right now, so there shouldn't be any reason to consider this, I don't think. I do find this quite funny when cast off of an Omniscience.

Verdict: Unplayable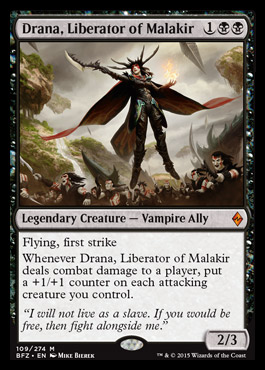 I like her. First strike means you will get the counters before most of your other creatures deal damage, so she can start affecting the board quite fast. Also, she puts counters on herself, so Drana is not a bad threat even if your board is otherwise lacking. Stats are quite decent on defense as well, I'd say she is quite good in an aggressive black deck. Sadly, those have not been really good lately, so that could make her ultimately unplayable, even if power is there.

Verdict: Niche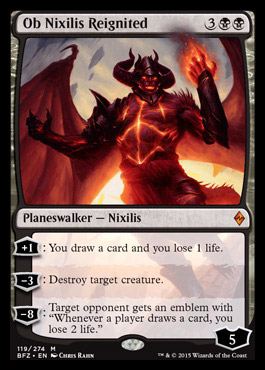 This is a demon I can get behind. I mean, standing in front of it is most likely a foolish idea anyway. Ob Nixilis shines in boards where there is exactly one creature to kill. Five mana removal that demands an answer afterwards is pretty darn great in my book. Drawing an extra card every turn is very nice and will just close the game if not dealt with. 

Unfortunately, he does cost five and is probably only reserved for black control decks, so he is pretty narrow. Ob is neither quite powerful enough to make you want to build a deck just because of him, so if the deck he would feel at home with is not playable, he will not change the fact. I kind of hope we will see him later on, but there are no guarantees.

Verdict: Niche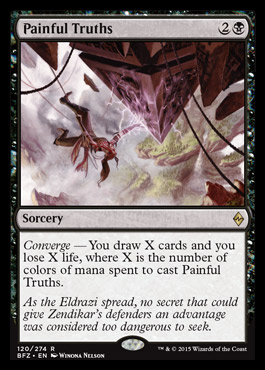 Three cards for three mana is an insanely good deal, no matter how painful those cards are and that is the truth. I think this might be a card most people overlook at least in the early on. I really like this one, Painful Truths requires somewhat specific home, as you really want to cast this with three different mana consistently, but the payoff for the mana spent is just too much for me not to try this card just about everywhere I reasonably can. Three cards is good amount to actually pull you ahead from being clearly behind. In the late game this can draw you the cards and still leaves you with mana to deploy one or two of those things to allow you to impact the board immediately. I am a big fan of Night's Whisper and this is probably significantly better.

I really want to give this a high rating, but I probably shouldn't solely because of the limited number of decks this goes into, but we rarely get card draw this good (Treasure Cruise does not count for unspecified reasons), so what the hell? No pain, no gain. Also, this card currently costs like nothing at the moment, so you don't say I didn't warn you if this breaks out.

Verdict: Format Staple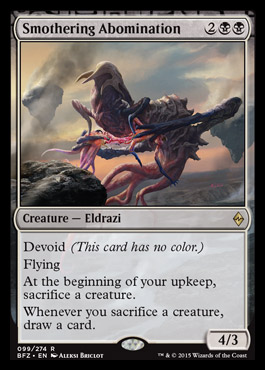 Myself from few years ago would have been mildly excited about this card, built a deck for it and proceeded to lose unfathomable amount of games with this. Now, armed with incredible knowledge about everything, I can safely say this is just plain unplayable.

I don't want to smother you with details, but basically: sacrificing a creature you've already invested mana on is not worth a card. You want to play this card on decks that are relatively aggressive, so eating your army is not usually a great deal and to those decks tempo is EVERYTHING. Giving it up is not a winning strategy despite how tempting it might sound to eat the early aggressive creatures to refill, you are much better just clearing way for them or finishing the job with burn.

Verdict: Unplayable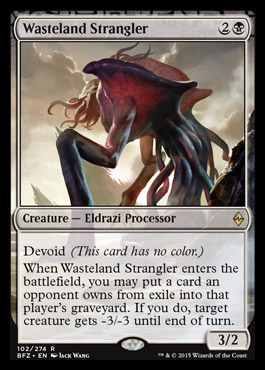 If you have a way to reasonably and consistently exile cards from any of your opponent's zones, this is really good. Three mana 3/2 that kills something is serious business. As a niche little bonus, he ignores protection from black like a champ. Deathrite Shaman, into this to kill your opponent's one drop is soooooooo gooooooood. You even then get to exile the land again for additional value. Sick.

I took a look at some of the cards in the format that will help you achieve this goal: Force of Will, Swords to Plowshares, Path to Exile, Oblivion Rings, Council's Judgment, Tidehollow Sculler, Obzedat (for insane value), Scavenging Ooze, Ancestral Vision (lol), Tainted Pact, any opposing delve... list goes on. Those are just what I had on top of my head. Also, funnily enough cards like Deathrite Shaman and Scavenging Ooze will usually work whether it is you or your opponent who played it.

So, kind of looks like white paired with black has the best chance of triggering this relatively easily. I really like the O-ring interaction as it removes the drawback of the ubiquitous enchantment while still exiling the card to get around persist and other nasty mechanics. Slight concern for me is that most of the cards are removal themselves, so you are basically really good against other creature decks but weak against combo. Against decks you find less targets to return from exile, you probably find way less creatures to target and missing the trigger there is not a big deal. Wasteland Strangler has decent stats just to pressure those decks.

He is a fine dude to have later in the game as well. Probably big enough to matter and still relevant ability. If you play a lot of midrange mirrors, I feel that Wasteland Strangler is very good as he is more than fine later on. The very limited testing I've had has impressed me further. I will vouch for him even though this can easily backfire and he will not see any play what so ever. Pick one up and blame me when it doesn't pan out. I know I will.

Besides, Processor is like the coolest creature type ever, so there is even more incentive there.

Verdict: Format Staple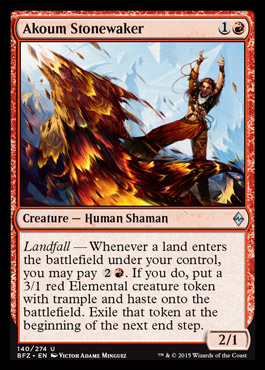 I can't fault anyone for playing this in monored. I really can't. To me, it just falls just on the other side of the playable bracket. I don't like cards that are this restrictive even if I recognize the power. It's not horribly behind the usual red two drop but enough for me. It becomes quite a bit better, if your opponent has loads of counters and no creatures, though. You do need a steady source of lands even then, so ideal scenario needs a lot of things falling the correct way.

Verdict: Unplayable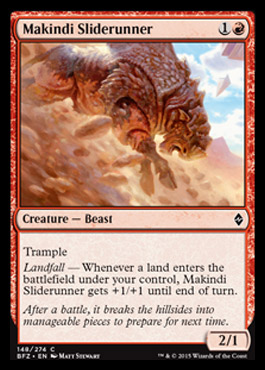 Plated Geopede has fallen out of favor recently and I think it is the superior card to this. If you want to go the landfall route in your aggro deck, might as well just go with the one that has the highest upside. Sure Makindi Sliderunner is more consistent, but lack of sheer power makes this one rather weak in my book. Red has gotten some really impressive two drops lately, so the competition is stiff.

Let this one slide.

Verdict: Unplayable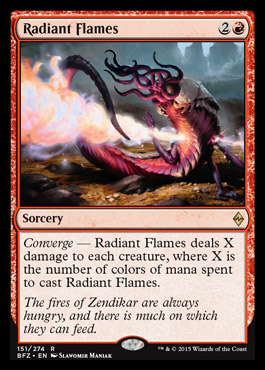 Firespout, Anger of the Gods, Slagstorm... join the club. Little more restrictive, little more flexible. Nice little specific tool for certain decks. Since I think most decks playing this will be close relatives to Stax decks, the interaction with cost increasing effects will sometimes allow you to sweep the board with more than three damage. Cute little trick you should probably keep in mind just in case.

Verdict: Niche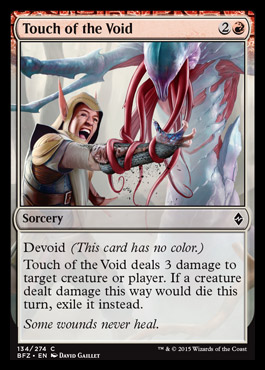 Since we don't have sideboards, Touch of the Void is not going to be a relevant card probably ever, but I really wanted to point out how good this card is against some the worst nightmares of a red deck. Kitchen Finks? Gone! Kor Firewalker? Not a problem... etc. Maybe worth keeping a copy at the ready if local metagame gets bored of you beating them with red spells over and over again?

Verdict: Unplayable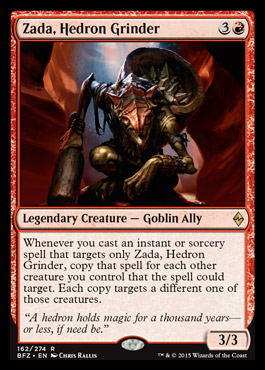 Since this card has loads of text I felt obligated to talk about it even though it's really bad.

Verdict: Unplayable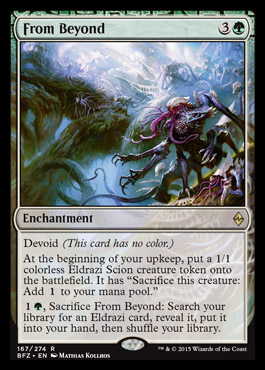 I just love how neatly this slides into a Polymorph-Sneak Attack deck, but the mana cost is probably just too much of an obstacle to overcome. Not that I even think Polymorph is a valid strategy in the first place, but it almost feels like the designed this card with that strategy in mind.

Verdict: Unplayable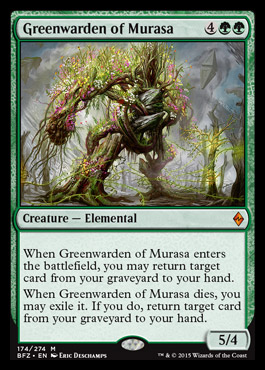 Value is there, but I just can't ever imagine playing a card that gives slow incremental advantage as my six drop. Primeval Titan and Wurmcoil Engine have set the bar very high and Greenwarden of Murasa pales in comparison.

Verdict: Unplayable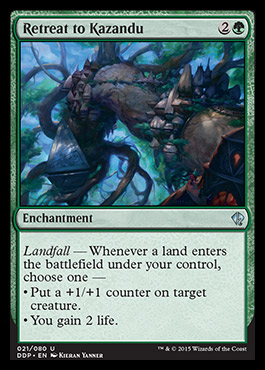 Retreat to Kazandu will get infinite life with a karoo and Fastbond. Just play the karoo land, gain two and bounce itself. You can also make your creatures as huge as needed once you have the life to spare, so you can theoretically kill your opponent on the second turn if you start with a creature and have enough lands. This actually makes this a very nice card. Both combo pieces are enchantments and are of the same color. I really think there is a combo deck here. Not quite the level of being full-fledged archetype, so rating is going to reflect that. Or I could be wrong and I really want to be wrong here.

Another decent interaction is Crucible of Worlds + Fastbond + this + fetchland which will make you a lot of mana, thin your deck from all the land, will give you infinite other landfall triggers and probably makes any creature you have lethal or rather close to one.

Neither of those are entirely new interactions as Grazing Gladehart exists, but I prefer something that doesn't die to creature removal for my combo decks. Also, the +1/+1 counter for creatures is not a blank line when you are not comboing (and certainly isn't when you are) and acts as a game finisher quite well once you pull some shenanigans off. I like this combo more than the Retreat to Coralhelm and Knight of the Reliquary, which isn't much of a feat as I do not like that combo at all and this seems like it would actually do work here and there.

Verdict: Niche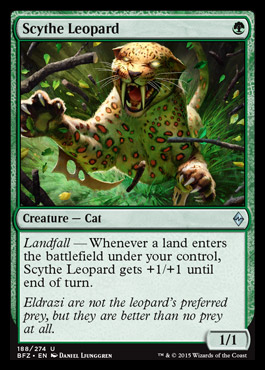 Again, I dislike these new landfall creatures. I mean, they make the limited actually bearable (get it?) this time around so that is a plus, but I don't care about them in HL. If you run out of lands, you are left with really unimpressive dork and if you have the all fetchland hand, they aren't insane. Go all in, or don't go at all.

Verdict: Unplayable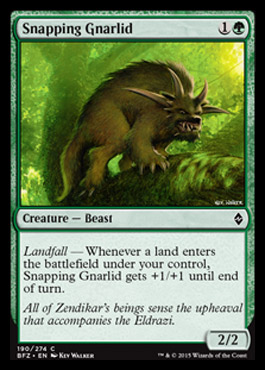 See above.

Verdict: Unplayable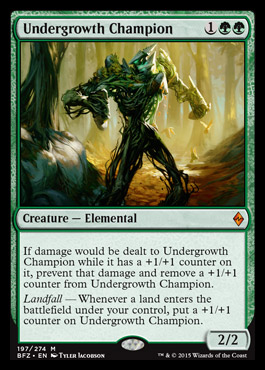 See above.

Verdict: Unplayable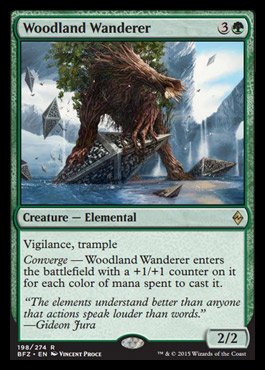 See above.
No wait! That doesn't work anymore. This was getting a bit too easy. 

Four mana 6/6 with vigilance and trample is a big game. Woodland Wanderer is fine as a 5/5 as well, so it is far from end of the world to cast him under non-optimal conditions. I think he has big enough upside that I can recommend him even though being essentially a card with no relevant text is not what I want from my four drops, but Woodland Wanderer will get a pass if your deck is aggressive enough.

Verdict: Format Staple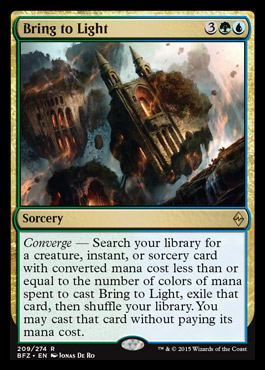 This casts Living Ends and Hypergenesis like there is no tomorrow. Also, having insane flexibility is really nice, I do not have a single solitary idea what kind of deck would want Bring to Light, but I can see it doing some really good work purely because I assume it will be really good in almost any situation provided you built your deck with it in mind and have no trouble finding all the colors. The card is exiled before casting, which might matter somewhere. I guess it dodges Grafdigger's Cage, but I don't know if that technicality matters in HL at all.
Verdict: Niche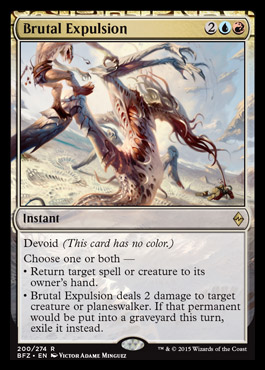 Oh, how I wish this hit any permanent instead of just a creature. I would accept even non-land permanents. Venser, Shaper Savant is incredibly versatile and that is often times not good enough in HL anymore. This sadly needs to kill something to be worth it and with Venser you can do pretty much always the same effect than Brutal Expulsion, but also have slew of other options. Kinda unfortunate, since I don't think any deck prefers to have both of them and when you want exactly one of these, Venser always comes ahead.

Verdict: Unplayable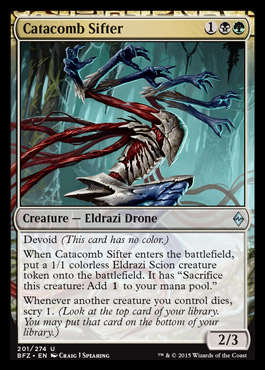 So three mana 3/4 that ramps you and gives you value? That is a pretty good deal. Straight up p/t is not super-impressive, so I do not know how much 4-5 colored goodstuffs want this as they have so many great options for pretty much every mana slot imaginable, but a little more synergy based deck might find some use for this. Pattern-rector comes to mind as having a body you want to land Pattern of Rebirth and on demand scry are good in there.

Quite weirdly, I don't think this is a slam dunk in there either but rather a nice option for a variety of decks. I do have a feeling I might be undervaluing him here.

Verdict: Niche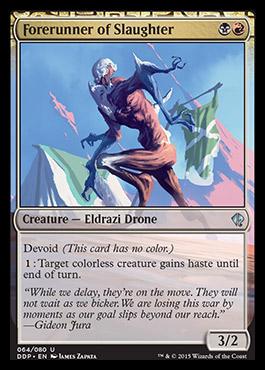 So mediocre. I like that it can attack with haste if you have the mana, but you probably don't get the effect for your other creatures, so that is a downer. I have very little experience of BR or other multicolored aggro other than Naya, so I could be off here, but I'd say this just isn't powerful enough. Needs another ability or if he could target any creature, I think we would be talking, but now... I'd pass.

Verdict: Unplayable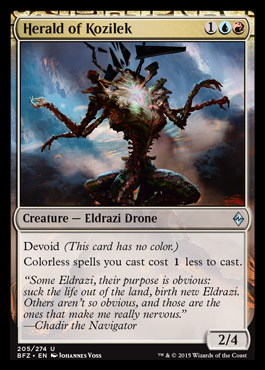 Looks bad, but... actually no buts. Probably just is. One saving grace could be that it cheapens artifacts, but that is not an unique ability and certainly not usually something you want to have in a creature. If you play a combo deck, you really do not want to make opposing removal relevant. Still, something to point out.

Verdict: Unplayable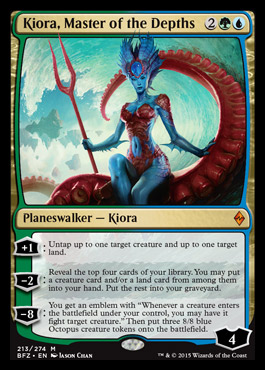 I am not impressed. Not only you want a specific deck to get advantage of the first ability. Untapping a land is weak sauce, so you should strive for also untapping creatures. Random mana dork will give you a decent discount if you have something to follow her up as well, so she can be nice little tempo play in midgame. Naturally, if you have cool tap abilities to abuse, she can surely make a tandem that will end the game in a turn or two. However, the thing you should notice is that she requires other cards to be good. Or rather, she needs help not to suck horribly.

Second ability is better but not insane. If you can hit creatures and lands with good percentage, she can act as a decent hand fillerer(er?), but at a certain point new lands are probably meaningless. Interesting part is that they all go to the graveyard. You can also choose not to take a creature, if you rather have the option of animating it or whatever.

In the end she is rather narrow PW without a really big endgame and can sometimes be completely ignored if opponents plan to go under or over you. Jace, Architect of Thought sees varied number of play and is, in my opinion, barely making the cut these days. I grade Jace reasonably higher than Kiora, so I probably just avoid her, but I can see she being at a home somewhere and planeswalkers often look worse than they actually are, so I's say:
Verdict: Niche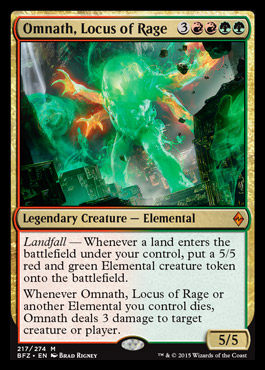 I have hard time finding a slot for Avenger of Zendikar sometimes and that guy is gas incarnate. It also costs the same amount, is way easier to cast, actually wins the game and is Karakasproof. I could list more nice things about it if you are still unsure, but I think I don't need to. You guys are all smart enough.
Verdict: Unplayable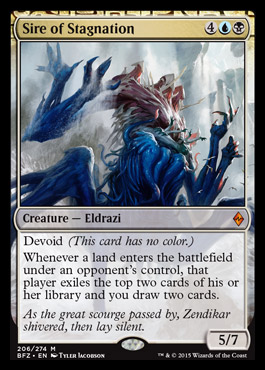 Consecrated Sphinx this is not. Let's just get this out of the way immediately. At the point you manage to get this into play, your opponent can just choose not play anymore lands and I assume they really do not need to, so he is very underwhelming. If you manage to reanimate this into play early, this can be really good but probably still not as good as Griselbrand, so there just isn't upsides to be found here. I'd pass.

Verdict: Unplayable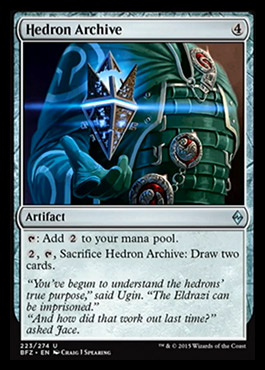 What a cute little card. Four mana for two extra mana is not entirely horrible. I've cast many an Everflowing Chalice back in my day for that exact amount, so I've been there. Cashing this in few turns down the line for a few cards is decent but at the end of the day, it's all a bit too clunky. I have however also played Sisay's Ring somewhere, so I guess this is a significant upgrade, but it probably is needless to point out how those decks fared. I am going to say this is unplayable, but there will be time when I just have a horrible brew coming up and I need to scrounge draft leftovers for one of these to try it out. 
What was the definition of the insanity again? I also know how those decks will do if I try to pit them against anything that has blue cards. Or red cards. Or cards.

Verdict: Unplayable
The dual lands
I think these are game changers. They are not going to be universally adapted in the current "as greedy as possible"- mana bases, but they actually give a decent fighting chance for any two-colored decks. Most two-colored decks usually are at a disadvantage mana wise and having your first three fetchlands be dual lands when needed is amazing. I would consider these duals to most of the current mana bases as well as they are quite potent. It's not hard to find a spot to crack a fetch at the end of your opponents turn if you don't have the required two basics, having a way to shuffle your deck is not nearly as important in HL than for example in Legacy, so don't overvalue them unless you have cards in play or in hand that cares about that.

I kinda fancy this design as these duals aren't something you either blindly choose to include or ignore. I can see some aggro decks trying them out for decent success when the stars align and any control deck should probably at least consider them. Most importantly, running just two colors is less of a shooting yourself in the leg now. It's more like stabbing your leg.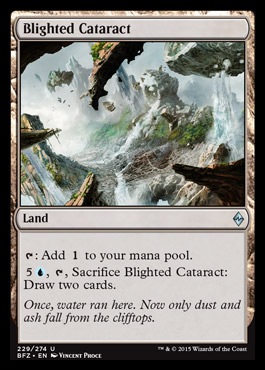 This is an expensive way to draw cards. It's uncounterable and a land, so despite how horrible it looks, it really can't be written off completely. I probably would go as far as to actually try this once, but I guess you could have a deck that makes a decent use of this. Be warned though, I've not seen Urza's Factory being played for a long time (and for a good reason) and that is probably almost as good of an effect and doesn't require you sacrificing anything. I feel this is undervalued by just about everyone (including Yours Truly), but that doesn't mean it is still good enough.

Verdict: Unplayable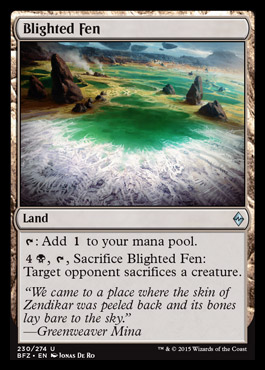 Yeah. I like. This is how spell lands should work. Give you a card and some tempo (you are killing a creature they needed to pay for after all). Amazing little tool for black decks that can afford to tap lands for colorless. That is not a horrible drawback for this upside. I am a big fen of this card.

Verdict: Format Staple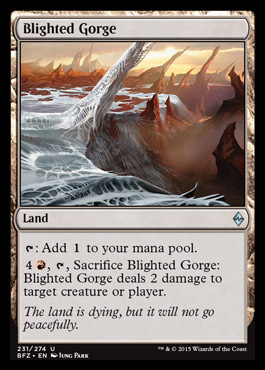 Hey, not bad. I mean, it's not Barbarian Ring or anything, but at least we don't have to worry about threshold. Being pain-free has its advantages also, theoretically can be used in a slower deck as a removal, although when those decks are fine trading their lands for cards, the 2 toughness guys don't usually matter. 

Probably not great in RDW, but I would test that out. Depends how many lands you have and if you can afford to run one colorless one that doesn't have massive upside, like Mutavault or something. I'll be glass half full – guy with lands that can be cashed in for an effect later on, mainly because they sometimes just perform better than they seem, but this is maybe a touch too weak.

Verdict: Unplayable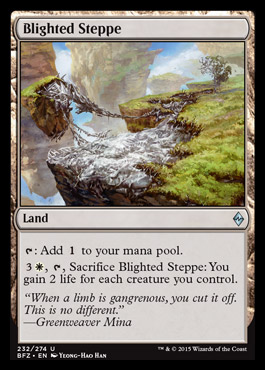 If you have loads of creatures, you don't need to gain more life, unless you have a very tight race that includes creatures with evasion or opposing burn. Colorless producing land that has extremely marginal use is just not going to do it, I am afraid.

Verdict: Unplayable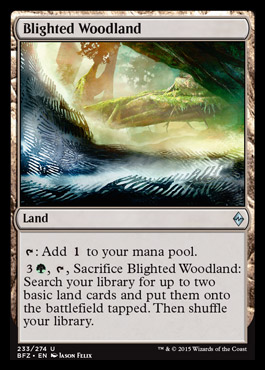 Nah. We already have Krosan Verge and Myriad Landscape. Making this cost colored mana doesn't do Blighted Woodland any favors. Green can ramp better and more efficiently, so if that is your game Blighted Woodland probably isn't powerful enough.

Verdict: Unplayable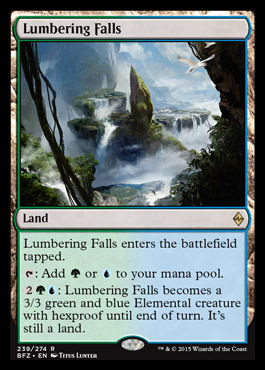 Finally. They are here. Instant classics. Lands that act as a spell are so ridiculously better than they first might seem and are probably undervalued by many.

Stats of Lumbering Falls are not great seeing how much they require, but hexproof is such an infuriating mechanic that I will be okay with those stats. Can be just the nightmare for those pesky control decks.

Also, speculation how exactly powerful Lumbering Falls is irrelevant. If it is better than Lavaclaw Reaches, it is great and should be played in most green and blue decks.

Verdict: Format Staple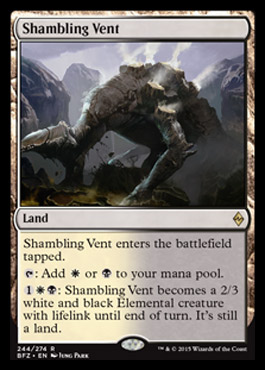 Better than Lavaclaw Reaches? Check. Rather weak stats, but lifelink is pretty good sometimes and still, you are getting a dual land that turns into a creature late game. What more do you want?

Verdict: Format Staple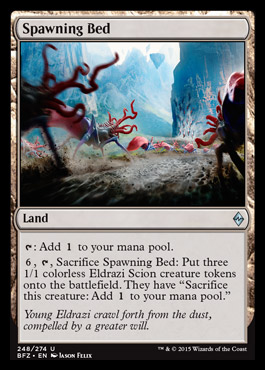 Urza's Factory is still a great argument against Spawning Bed. The former sees no play, so this shouldn't either.

Verdict: Unplayable
So, basically Dragons Eldrazis of Zendikar is not the greatest of sets, but new set of fetchable duals (even if only ally colored) and couple of dual man-lands makes everything fine and dandy in my book. Also, Gideon is very good and I expect a lot from Painful Truths and Wasteland Strangler. Remember, last set was unusually great for us, so it is kind of unrealistic to expect another insane slew of cards twice in the row. All in all, I am relatively excited.
My top five ways to cast Painful Truths:
1. BGW
2. BUR
3. BUW
4. BRG
5. BRW